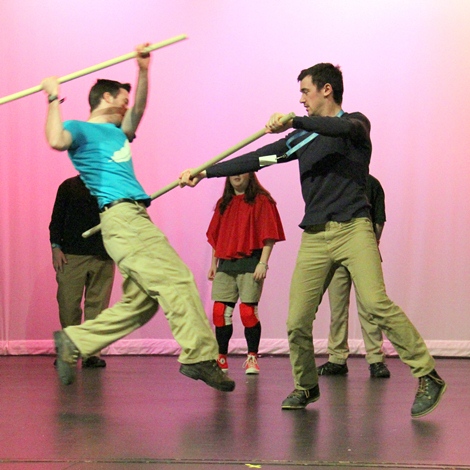 Professional actor and former West Ferris student Jim Watson (R) rehearses stage combat with a student during a visit to the school Friday.
High School was not an easy time for former West Ferris Trojan Jim Watson, he rarely attended class and was on his way to a life of certain failure that is until the Drama Department got a hold of him.
Watson, a professional actor home for and overdue visit, made a point of visiting his Alma matar Friday to share his story of struggle, encourage students to stick with school and impress upon them how important, although they may not see it right now, teachers are to their success.
"My whole speech was about the teachers and how important they are to a student and you might not enjoy school but you've got to take something away from it."
Watson attributes his success to teachers Chris Mogan and Al MacAskill or as he likes to call them "the one – two punch".
Mogan, who had Watson for two classes he was not succeeding in, caught up gave the young actor an ultimatum – take part in an after school production or fail.
Watson says there was no choice for him he had to do the production.
"It kind of put me on a path to where I am today," explains Watson.
"He just saw something in me that gave me an opportunity make something of myself one day."
"Then I ran into Mr. MacAskill and he was a great."
"Mr. Mogan takes a student kind of opens them up and Mr. MacAskill takes that potential and just really creates an actor out of you or anything just a human being that one day will become something."
"I'm very fortunate, I've been lucky in certain ways to run into people who have helped my career and seen something in me that I haven't and pushed me when I really needed to be pushed and those two guys are definitely on the top of that list."
The admiration is mutual is clear to see as MacAskill talks about the potential and quality he saw in the young Watson.
He is pleased to see his former student continuing to work hard and was equally pleased to have him share his story with current students.
"I think it's really important to have someone like Jim come in and talk about his struggles in high school and continuing after high school and how difficult a career he's chosen yet he's persevering," notes MacAskill.
Watson says his message to any student struggling is don't give up and education opens doors to a great future.
"Make it work for yourself."
"School is – it's inevitable you need to be in high school and if you drop out it's not good, so make it work."