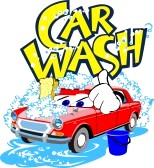 The 11th Annual CARSTAR Soaps It Up Car Wash is a national fundraising event taking place at CARSTAR Collision & Glass Centres in North Bay and across Canada June 6.
This year, Soaps It Up is part of CARSTAR's Shine Month with nearly 100 of its locations across Canada raising funds for CF Canadam the company says in a news release.
In North Bay, funds raised at Stockfish CARSTAR location will be donated to The Gathering Place North Bay Soup Kitchen, and CF Canada, as part of the company's ongoing commitment to support the communities where CARSTAR owners and employees live and work.
Date and Time: Friday June 6, from 8:00 a.m. to 3:00 p.m.
Location: 23 Commerce Court, North Bay
Cost: A minimum donation of $5.00
More Information: visit http://www.carstar.ca/soapsitup or call 705-476-1520