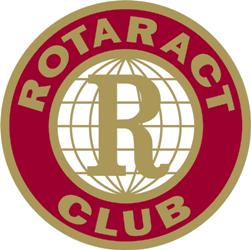 Rotaract Club of North Bay
News Release
*****
It was an exciting St. Patrick's Day for the members of the Rotaract Club of North Bay – Nipissing, as they celebrated their 5th Birthday at Cecil's.
As guests drank green beer, Past President and Founding Member, Rob Perrotta, recapped the last 5 years, truly giving the audience an understanding of how far the club has grown and the possibilities that lie ahead.
Over the past 5 years, the Rotaract Club has ran a number of annual events, raising more than $75,000, in total, for organizations on both a local and international level.
Some of the successful events include the Up the Creek without a PADDLE for Paddle, raising $57,000 in 5 years, and the Lightly Loved Literacy Sale for the North Bay Literacy Council, raising more than $3000.
The Literacy Council was presented with a cheque in the amount of $750 from the proceeds from the 2014 Lightly Loved Literacy Sale.
Internationally the Rotaract club has sent school supplies and funds to a school in Costa Rica.
The funds allowed the school to finish a wall that had yet to be completed and put lights in a classroom.
Rotarct annually supports the Soles4Africa golf tournament, and has partnered with Dreams to Read; a non-profit organization that aspires to bring books to schools around the world using local fundraising to have a global impact.
Club President, Katina Matheson, welcomed the club's Honorary Rotaractors, and spoke on the growth of Rotaract not only internationally but also within the District.
The Rotaract Club of North Bay – Nipissing was the first chartered Rotaract Club (2009) in the District and five years later there are currently four more chartered clubs.
The evening presentation was concluded with the official cake cutting and a reminder that Rotaract's Annual Day of Giving is being held on April 12, 2014.
This event is a day where members of the Rotaract and Rotary clubs assist individuals within the community with household tasks at no charge. The club is still accepting tasks that may include but are not limited to:
• Changing light blubs
• Flipping mattresses
• Light dusting
• Yard work
All tasks can be submitted to mail@rotaractnbn.com or 705- 492-2660
*****