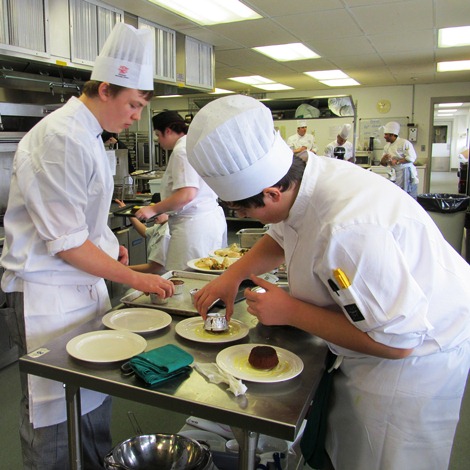 The Widdifield team plates up their desserts during the Top Chef competition at Canadore College Saturday.
High school students from across the province pulled out their aprons, sharpened their knives, fired up the burners and flexed their culinary muscle Saturday as they vied for the coveted title of Canadore College's Next Top Chef.
The teams were challenged to whip up toasted pecan and butternut squash soup, stuffed chicken breast, rice pilaf, ratatouille and hot chocolate fondant with crème Anglaise and tantalize the judges' taste buds.
Judges Culinary Arts Professors Chef Derek Lawday and Chef Fintan Flynn scored the gastronomic works based on taste, presentation, preparation, safety, sanitation and professionalism.
While the students received recipes in advance to practise and perfect their dishes, they were all challenged with a number of things from time management, new environment and so on once the competition got underway.
Widdifield student Sawyer Schubert says he was learning from his own mistakes.
"I've just made things too thin or too thick, forgot to add liquids to soup or something," he tells BayToday.
Meanwhile Andrew and Tyler from Kemptville said they felt the stress but at the same time were learning invaluable chef skills including how to compare meals to the taste and looks of a dish.
"It's not exactly what we thought it would be like it's more stressful to be here then practising after school," states Andrew.
"Because we are in our own environment and like out here the professionals and everybody else is looking you know it's a little stressful."
Meanwhile the team from Algonquin Mark Sampson and Luc Bouchard said being in the Canadore kitchen was a great learning experience although they ran into some trouble making their soup.
"I am actually learning to work with stress," notes Sampson
"But it's a really fun experience because I have a partner, I usually do it by myself, but communicating a lot is the key to this."
Win or lose Bouchard, who has been taking advantage of the dual credit program between the college and Algonquin, plans on attending Canadore for Culinary Arts program.
"I've only heard good things about the kitchen and the chefs," says Bouchard.
In the end Parry Sound High packed a culinary one two punch that put both teams at the top.
Gold medal was awarded to Jamie Watkinson and Tyler Crisp- Parry Sound High School
Silver medal was awarded to Justin Denmin and Ryan Evans –Parry Sound High School
And the Bronze medal was awarded to Victoria Croucher and Emily Webb- GPHS (Petawawa).
Watkinson and Crisp will receive first semester tuition to a culinary program of their choice at Canadore College.