With the federal government pushing for more businesses to go digital, a Northern Ontario-based firm has kicked off a new digital adoption business and is encouraging the business community to get online and sign up.
The new company is known as Digital First and describes itself as dedicated to fostering innovation and maximizing efficiency, for small- and medium-sized operations.
Digital First is an offshoot of Pace Global, a Sudbury company that focuses on change management and digital adoption in the mining industry.
The newer initiative lays out the plans offered by the Canada Digital Adoption Program (CDAP) which offers grants to help businesses get online, reduce costs and boost product sales.
"We have a long history of effectively applying change management principles and digital adoption to mining giants, and we are now extending our support to smaller virtual/hybrid teams through Digital First," said Pace Global CEO Neha Singh of Sudbury.
"Our team will provide custom, digital-assisted solutions, making operational excellence accessible in a fraction of the industry-standard time and cost, thanks to a proprietary methodology based on global best practices," Singh said.
"So, within PACE we've created a division called Digital First because PACE is dedicated to serving the mining industry. This Digital First division, that's the new piece is dedicated to serving the small to medium-sized businesses," said Singh.
She said business owners can sign up for free and access free learning on the First Digital website.
"And then some businesses who want to improve specific processes, who want to create a digital plan, want to figure out how to digitize their business, can sign up through the Canada Digital Adoption Program plan and they get up to $15,000 back as a grant," Singh said.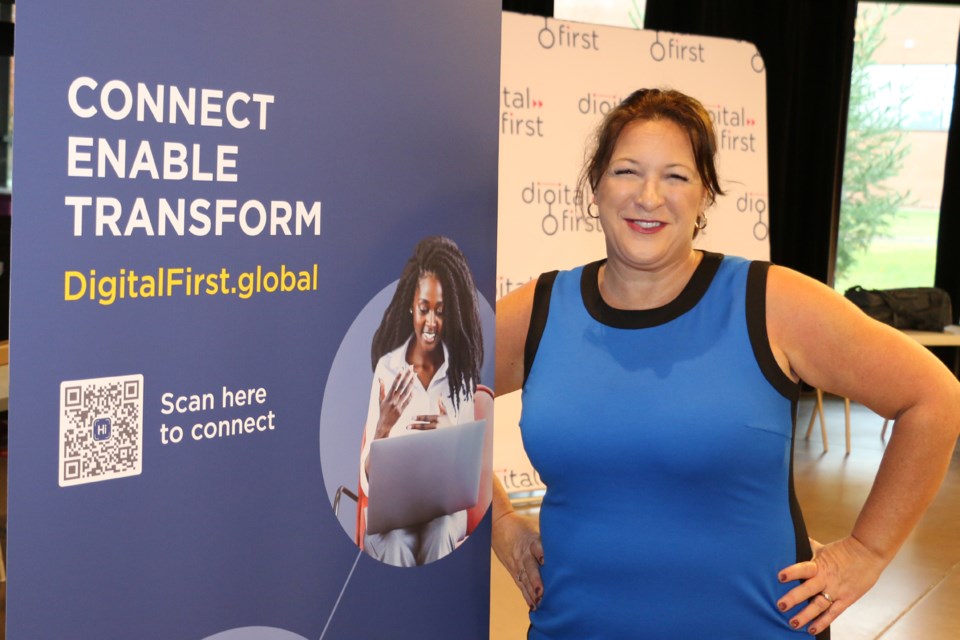 The new branch of the company is led by Beckie Gallardi of North Bay, the chief operating officer (COO). She said part of the process is making people comfortable with online meetings and once that is done, then innovation, change and efficiencies follow.
Gallardi said during the COVID-19 pandemic a lot of things were learned about the dynamics of online meetings, using programs such as Zoom or Microsoft Teams.
"So this is where you and I can be in your office and I'll be in mine, but we feel connected. We're both actively in the space together. We're asking questions, we're speaking to each other or texting inside the bubble," she said.
Gallardi said many companies do this on a global level in Canada, Europe and other venues. Gallardi said it resonates well in Northern Ontario because so many businesses have branch offices in places like Thunder Bay, Sault Ste. Marie, North Bay or Timmins.
She said another part of the initiative is that it helps some people get over their innate fear of using a computer in online meetings. She said people learn how to use the software easily and how to contribute to the meeting as effectively as anyone else.
"It's easy to do. You just click here. You can't break it," said Gallardi
Len Gillis covers health care and mining for Sudbury.com.