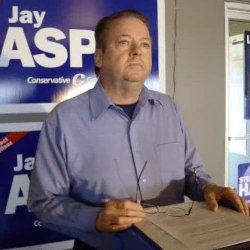 Nipissing-TimiskamingMP Jay Aspin
News Release
*****
Jay Aspin, MP for Nipissing-Timiskaming highlighted today the recent call for nominations for the Prime Minister's Volunteer Awards open between February 28 and May 9, 2014.
"Our region has no shortage of outstanding individuals and groups who dedicate themselves to serving their communities," said MP Jay Aspin.
"The Prime Minister's Volunteer Awards are an opportunity to both recognize extraordinary volunteers across Canada as well as to promote the value of giving back to the people and causes we care about."
The Prime Minister's Volunteer Awards consist of 17 awards in total: 15 regional awards – 3 awards for each of 5 regions across Canada (Atlantic, Quebec, Ontario, the Prairies, British Columbia and the North), and 2 national awards.
Discover the award categories and submit a nomination today through the Prime Minister's website: www.pm.gc.ca/PMVA .
Recipients are recognized at an award ceremony and chose an eligible not-for-profit organization to receive a grant for $5,000 (regional award) or $10,000 (national award).
"Thanks to volunteers our region is safer, cleaner, friendlier, and just better," said MP Jay Aspin.
"Volunteers help raise money and awareness for important causes, put on shows and festivals, organize all sorts of events year-round, and generate incredible amounts of tourism. Volunteerism adds great value to our communities and everyday lives."
Quick facts
Businesses contribute to their communities in many ways. In 2010, over half of employees who volunteered said that they had received support to do so from their employer.
Almost half of all Canadians (47 percent) volunteer their time, energy and skills to benefit their communities, with the replacement value of their work estimated to be around $14 billion, or the equivalent of nearly 1.1 million full-time jobs.
Volunteers are crucial to Canada's not-for-profit sector, which includes 161 000 registered charities and not-for-profit organizations.
The Prime Minister's Volunteer Awards recognize volunteers and organizations that use innovative ideas and approaches to address social challenges.
Working in partnership, businesses, individuals and organizations can develop creative ways to strengthen their communities.
MP Jay Aspin encouraged constituents to visit his website www.jayaspin.ca to find out more about the Award and how they can nominate a local volunteer or group.
*****