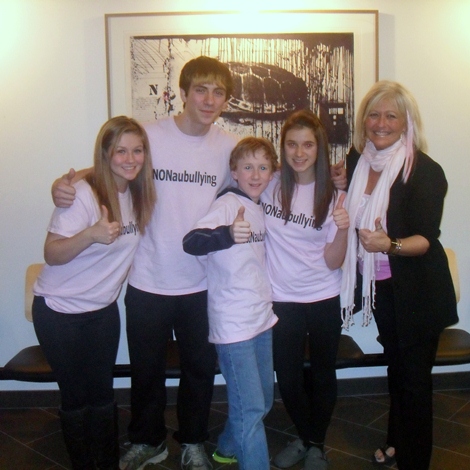 File photo of Sylvie Vannier and NONaubullying students.
It's Pink Shirt Day across Canada a national initiative to raise awareness to help stop bullying.
Pink Shirt Day, which started back in 2007 in Nova Scotia, was an act of solidarity by Grade 12 students David Shepherd and Travis Price, who banded together after hearing about a Grade 9 boy at Central Kings Rural High School in Cambridge, Nova Scotia, who was called names, threatened to be beaten up for wearing a pink polo on the first day of school.
Locally the folks at Ecole Publique Odyssée under the guidance of teacher Sylvie Vannier are set to host their second annual Basketball for Bullying event.
The friendly games will feature a cross section of community members from police, firefighters, Battalion hockey players, media including BayToday's Jamie Lyle and more taking on the student teams of Odyssee.
The event runs from 12:30 to 3pm.
Everyone is encouraged to wear pink to help spread the message.