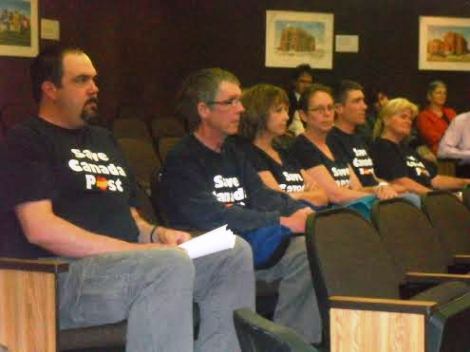 North Bay City Council saw two sides face off regarding the proposed changes to postal delivery services during Monday's regular meeting.
Canada Post has recently raised letter rates to a dollar in the largest ever single price increase for the corporation, in addition to announcing plans to cease door-to-door mail delivery in favour of implementing community boxes.
The changes are seen by many as being the final nail in the coffin for the service, making it costly and difficult to use and more than likely, driving away many of the customers that they are still able to attract.
With changing volumes of mail and more importantly, a greater shift to parcels and advertising pieces, Canada Post is looking to change the service into being a more competitive system.
These changes are to take place in North Bay within the next few years and could see as many as 19 letter carriers lose their positions, with a financial impact of 1.4 million dollars in salaries being pulled out of the city.
This figure doesn't include support workers, such as sorters and drivers, who may also see cuts.
Keith Bradford, Local President for the Canadian Union of Postal Workers was on hand on Monday evening to ask council to support a motion to request that the Federal Government not go ahead with the cancellation of home delivery services, in conjunction with numerous other communities within the North.
Citing a country wide loss of 6,000-8,000 jobs after a 37 percent price increase on stamps, Bradford says that it doesn't make sense from a service point of view, especially since Canada Post and the Federal Government are only handpicking the Canadians that they feel represent their views in the discussions and negotiations for Canada's future postal system.
"We want Canada Post to consult with Canadians before decide to make drastic changes to the service that we provide," says Bradford.
On the other side of the argument, Don Rennick of the Taxpayer's Association, forwarded the point of view that if this seemingly profitable service was so lucrative, private businesses should be allowed to compete for contracts to better serve customers and to compete at better costs.
Rennick says that the real story here is not the profitability but the ever increasing liabilities of the pension funds.
"The pension fund has a 6.5 billion dollar deficit as of the end of last year," he says, although Canada Post reported the year as being profitable.
"This unfunded liability will only increases the longer the status quo continues to exist," says Rennick, adding that the crown corporation which has existed for over one hundred years is "a relic from the 20th century that needs to be terminated."
Bradford disagrees with Rennick's and his figures, saying that in 2012, Canada Post made approximately 95 million dollars.
"The need for saving money isn't an issue," says Bradford.
It was Councillor Mac Bain who forwarded the motion, frustrated that 60 percent of North Bay residents who receive door-to-door mail delivery services were not consulted.
Canada Post also did not consult FENOM, and Bain says that by not doing so, there is no indication of how this would impact services to households and businesses throughout North Bay.
"We see, time and time again, people come and talk to council about things that impact their neighbourhood" says Bain, "and the fact is that I don't trust Canada Post to come and consult with them about where the community boxes are going to be," he adds.
Bain also says that he doubts that Canada Post would be able to do a good enough job locating and organizing community mail boxes in neighbourhoods that were never designed to have them, in addition to implementing things such as safety lighting, snow removal and safe automobile access around the boxes.
"They weren't considered, they weren't thought of a hundred years ago and so a crown corporation that's over a hundred years old should think of that," says Bain.
Bain says that it seems that Canada Post's only real concern is to make more money, however, at some point that will include making the services so costly and difficult to use that the postal system won't be able to support its operations on its dwindling volumes of personal letters instead becoming essentially a door-to-door advertising organization.
"We weren't consulted, we weren't asked and I'm sure the Board at Canada Post has a mind of its own," he says.