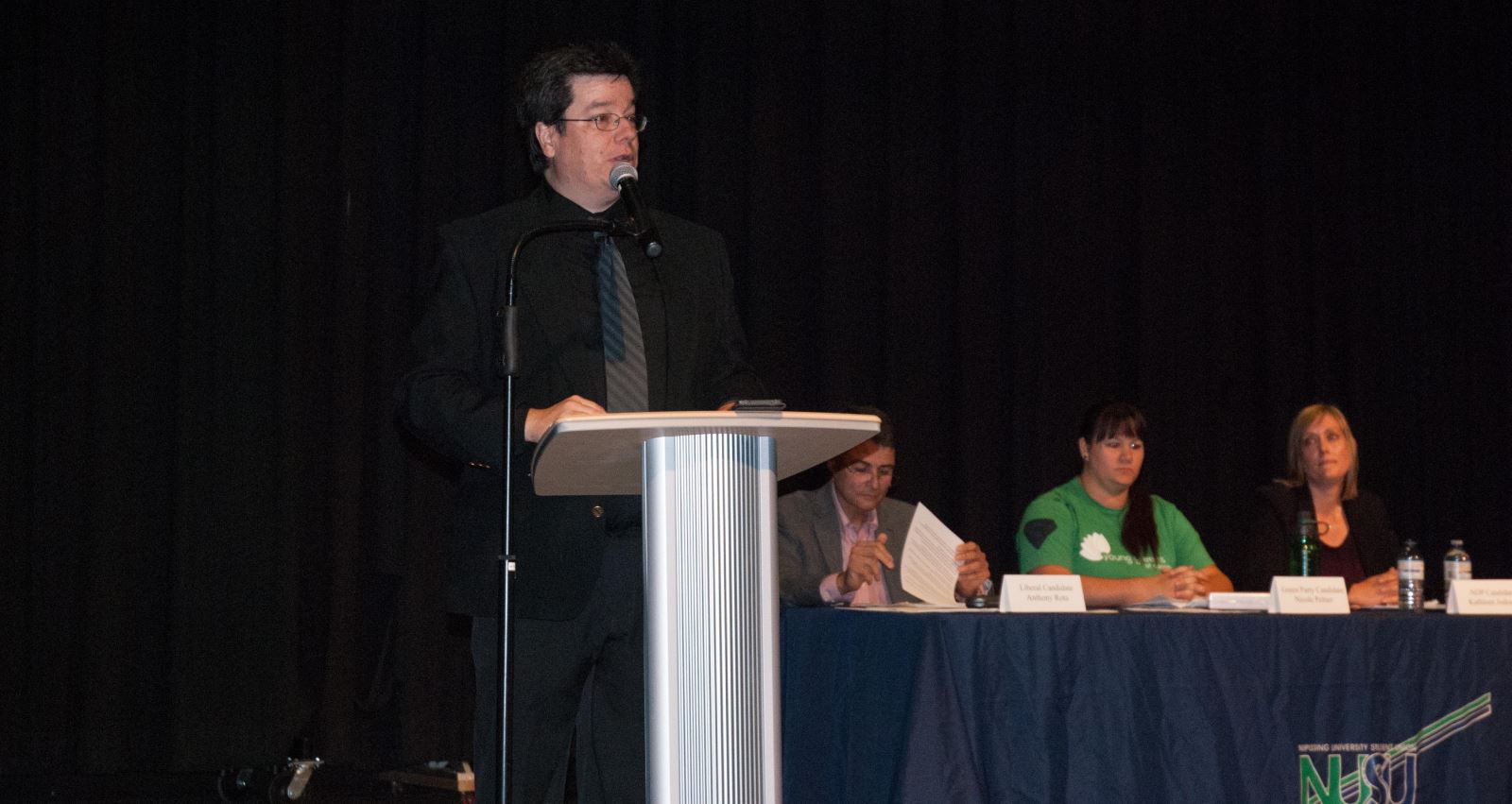 Nipissing University Theatre was packed for the all-candidates debate Thursday afternoon. Liberal Anthony Rota, Green Party's Nicole Peltier, and NDP's Kathleen Jodouin each debated their party's platform on issues that matter most to students.
The audience heard current economic times are not encouraging for students with almost 28% underemployed and with another 14% of students unemployed.
Nipissing-Timiskaming Conservative MP Jay Aspin was notably absent, citing prior engagements.
The debate was hosted by the Retired Teachers of Ontario Districts 43 and 44, Canadore Student's Council and Nipissing University Student Union.
Madison Byblow is the VP External for NUSU. "For us, this debate is about ensuring the candidates that these issues are federal issues, and we as youth have the power to change the outcome of the 2015 federal election. Students will be at the polls on October 19th, and we will not be silenced."
Students listening in are worried about rising costs of tuition in rapidly changing socio-economic times. The Green Party's Nicole Peltier's promise of no tuition by 2020 was welcomed by the students.
Candace Ghent
Nipissing University student Candace Ghent supports no tuition education. "I agree with Nicole in that no tuition should be our goal to work toward. But I appreciate what Kathleen said, in that it goes beyond tuition. What can be done for the future for students? I'm torn now. I knew who I might support when I went in. Now I'm not so sure. I'd like to hear about employment opportunities for students."
Teresa McChesmey is a mature student attending Canadore College. She asked the candidates to think about the lack of student financing for older students. "I don't qualify for Second Career, which was quite the process, and there aren't any bursaries for an older person to upgrade skills. My course is $7-thousand, and my books are $1-thousand dollars. It's hard to budget. I've noticed there are a lot of older students now with layoffs."
Anthony Rota pledged $500-million dollars in the next three years for education for First Nations. Rota calls for $40-million dollars annually for coop placements and that Katimavik be started up again.
Kathleen Joduin spoke of the importance of an NDP led bill for a francophone university in Ontario and said the NDP would spend $100-million dollars on apprenticeships and paid internships.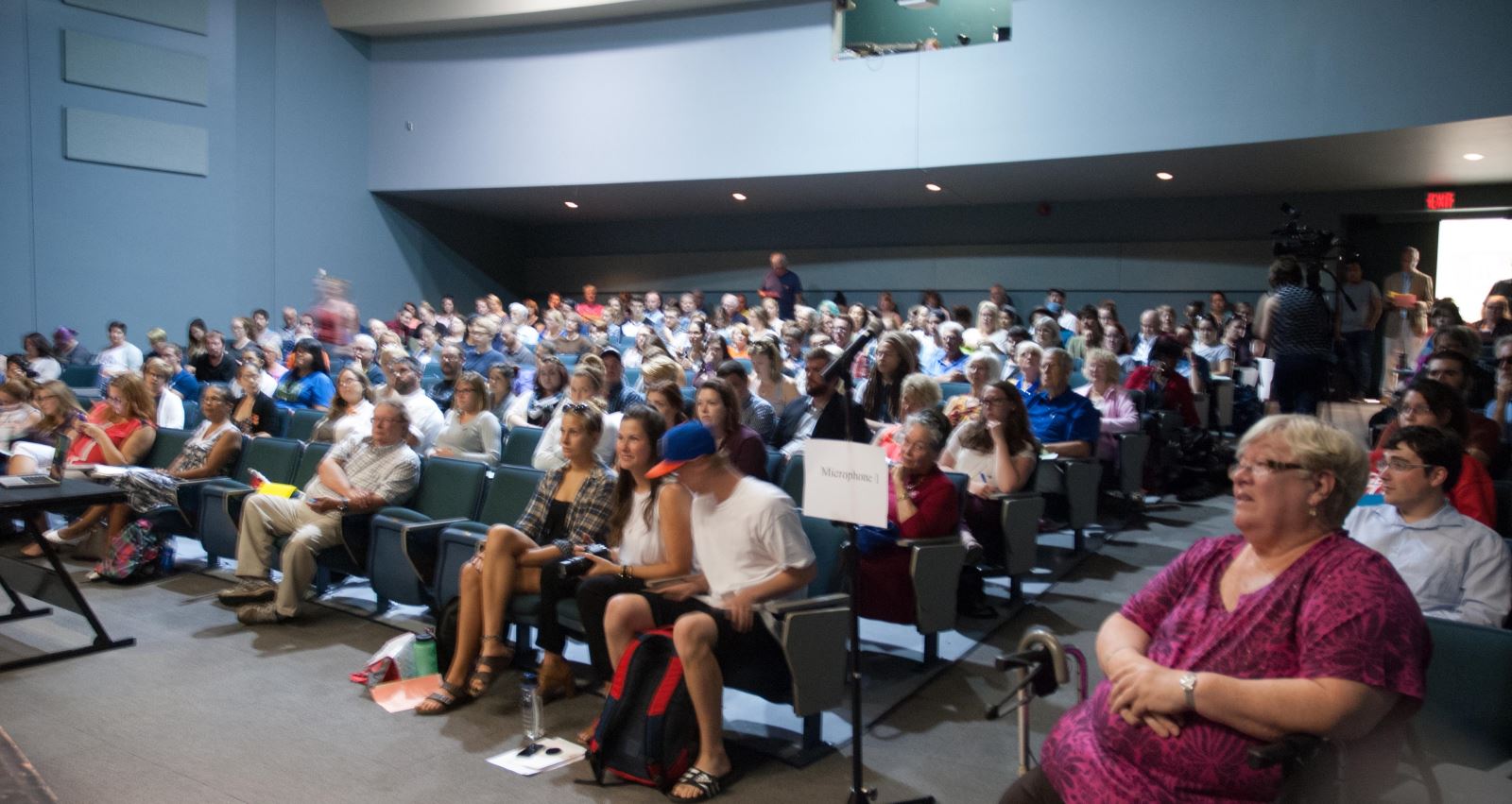 Chair of the Near North District School Board David Thompson weighed in on the debate. He says even though education is provincially run, it is a national matter. "Let's start to teach kids programming young. It should be in the curriculum in high schools. That's the future in jobs. That has to be part of the national strategy on education."
The Nipissing-Timiskaming electoral region is new, forming for the 2011 federal election. Jay Aspin became the Nipissing-Timiskaming MP by winning just 18 votes over incumbent Anthony Rota.
Controversy followed when the 2011 electoral results were challenged in court on the grounds that there were corrupt practices that affected the result of the election.
31 days left until election night in Canada, 2015.
http://www.timeanddate.com/countdown/to?msg=Countdown+Until+the+Next+Canadian+Federal+Election&month=10&day=19&year=2015&hour=00&min=00&sec=00&p0=1094