If you had told Alex Caron a few years ago that he would be moving from Quebec to Ontario, watching Netflix to learn English, and eventually starting a full
service property management company, he would have laughed. Really laughed. "I would have said, 'You're a liar!'... I knew three words in English: 'yes', 'no' and
'toaster'." Fast forward almost four years, and the ambitious twenty-three year old isn't laughing. He's just smiling as he looks back on all that he's achieved.
In January 2018, Caron moved from Quebec to North Bay – for love. It was not an easy time. He was on welfare for several years and working at Food Basics to help pay the bills. He and his then-girlfriend were living in a rental property. And though the relationship didn't work out, fate stepped in and steered Caron in a new direction that would change the course of his life.
The couple's landlord was paying a property manager to take care of the house, but jobs were slipping through the cracks. Alex suggested that he could do better. In exchange for reduced rent, he dove in to property management. The experience gave him a taste of a brand new world, and he discovered that he liked it. While it took some time for his vision to come together, Caron kept the faith.
Inspired by a special new woman in his life, he incorporated Hart & Caron in February and now has a roster of three clients. The company has some big goals: twenty-five clients by the end of 2021. An advertising campaign is in the works and Caron can't wait for it all to unfold.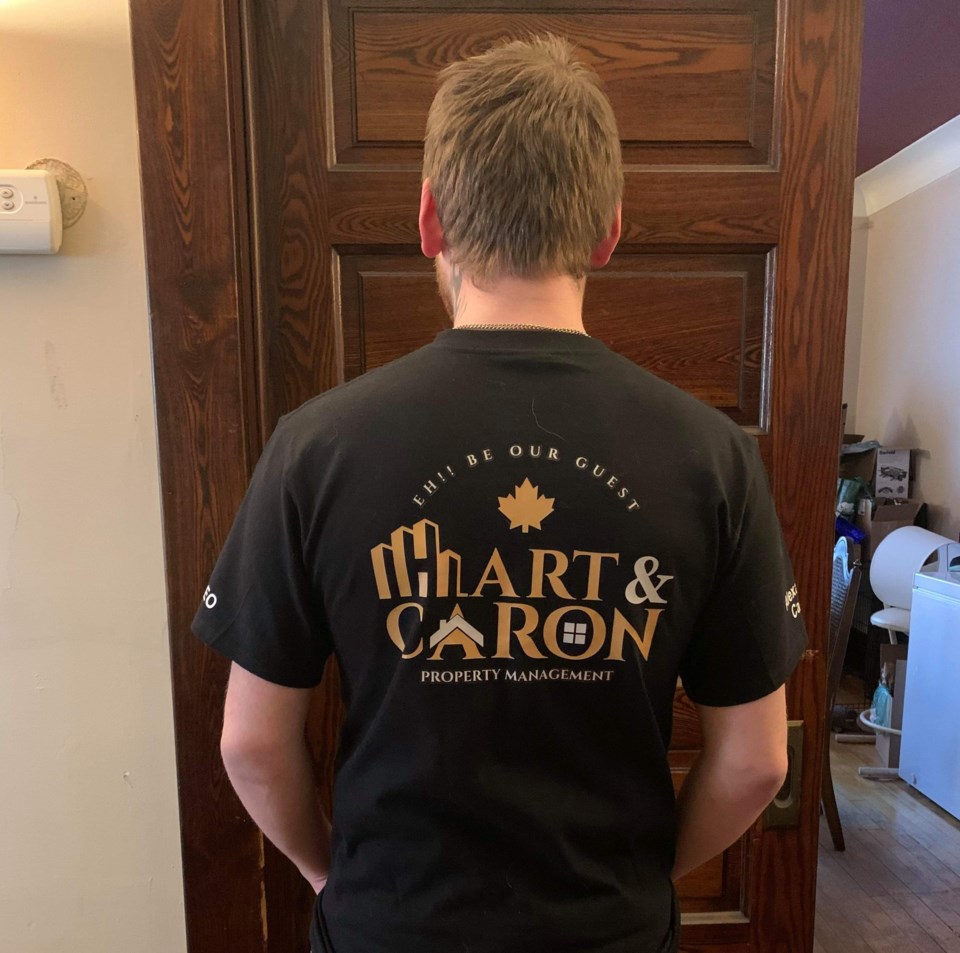 What sets his company apart? Customization. Caron tailors his packages to the specific needs of each client. He screens tenants and does everything from snow removal to lawn care and house cleaning, as well as on-call and contracting-out services. He checks in on vacant homes for snowbirds and cottagers, too.
It may sound pretty standard. But ask Caron, and he'll tell you that he's not just running a company, he's building a brand. "My brand needs to represent my values," he says with his trademark enthusiasm. It's a brand that is based on loyalty, honesty and trust. "I treat my customers like friends, like neighbours!"
Inspired by entrepreneurs like Bill Gates, Robert Kiyosaki and Elon Musk,Caron feels driven to succeed. "Those people who are now billionaires were once
somebody like me. They got to where they are because they put love and values and quality into their brand."
Happily, Caron cares as much about his community as he does about his clients. His compassion for the people of North Bay stems in part from the hard times he lived through when he first moved. It also stems from the crime and the opioid crisis he sees each day on the streets of his neighbourhood.
His desire to pay it forward recently brought him to affiliate with Vision 2025, the long-range celebration of North Bay's soon-to-be centennial. In September, Caron organized the group's community weed pulling event. He loved it. And now he wants to help bring festivals, events and beauty back to the city – a city he adores.
According to Caron, whether in business or in life, the basics are simple."With determination and motivation, you can accomplish anything!"
If you need property management services in North Bay, or are looking to rent a home, reach out to Alex Caron at Hart & Caron, [email protected],
249-591-8979.