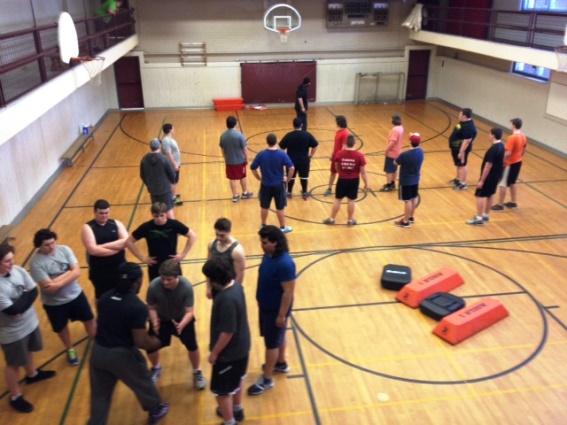 Local football players get some one on one instruction in blocking techniques during the North Bay Bulldogs Super Elite football camp. Photo by Dennis Chippa.
For many, the last weekend of March may be about hockey.
But for over a hundred young elementary and high school students, it was all about the gridiron.
They took in the North Bay Bulldogs annual Super Elite football camp, which featured instruction from CFL and NFL players and coaches.
The Bulldogs Marc Mathon, who organized the weekend at École Secondaire Algonquin, says it's a chance for some young players to get up close and personal with players who have been, and are, in the pros.
"They're using little drills and taking the time to teach every single individual a couple of the tricks of the trade that really help them get to where they are. They are learning some skills today that are absolutely crucial for them to be able to compete at their level they're at."
Players like Grey Cup champion Junior Turner, former NFL and CFL player now coach Jason Chivers, Winnipeg's Shea Pierre and recent Eskimos draft pick Michael Dadzie took the camp participants through catching, throwing and warm up drills, as well as work with players on both sides of the ball.
Every position player not only got some instruction, but one on one instruction.
Mathon says this year's event is smaller, by design.
"We wanted to limit the number of registrations so that every player can get time with the coach. No layer is left out to get the full experience, ask questions, and have those questions answered, and learn some skills."
Saturday night, Super Elite spent time with local football coaches, imparting a few tricks of the coaching trade.
Mathon says it's about bringing a big city football camp north.
"We know there are a dozen, half dozen families from North Bay, they pack up their kids and bring them four hours away to a camp like this in Toronto or Ottawa, in the bigger centres. Our goal, our mandate with the North Bay Bulldogs, is to help develop football in North Bay. This was our way of contributing to that goal, is to bring this kind of camp to North Bay so kids don't have to travel so far."
Participants, who were from all over the district, also spent time with the players talking about the mental aspect of the game, including moving concentration, discipline and focus skills learned on the field to their day to day life.
It's hoped they can take some of the skills learned this weekend back to their schools and make their leagues that much more competitive.
Ultimately, that makes Northern Ontario football better.