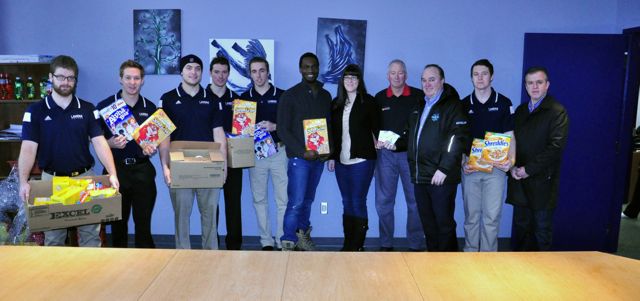 Lakers Sam Gleason, Jaret Smith, Chad Thibodeau, Brock Morrison, Colin Campbell, Steven Deeg, members of the Nipissing University Student Union (NUSU), head coach Mike McParland, Athletic Director Vito Castiglione and Mike Sheehan of No Frills McKeown. PHOTO SUBMITTED.
It's safe to say a lot will be decided this weekend for the Nipissing Lakers men's hockey team as they close out the regular season.
The Lakers currently sit in fifth place, two points behind Laurentian, two points up on Queens and four points up on UOIT and everyone has two games remaining on the schedule.
The Lakers, coming off a pair of losses, will look to rebound Friday night, but will have a tough time doing so as they face the Carleton Ravens, who are currently tied for first in the East Division with 38 points. Puck drop is set for 7:00 p.m.
To wrap up the season, the Lakers will travel to Sudbury to battle the Voyageurs on Sunday evening, a game that could and mostly likely will determine a position in the standings.
As of now, the Lakers would face the Voyageurs in the first round of the playoffs, with Laurentian holding home ice advantage, but a lot can change in the final weekend.
Laurentian has two home games, facing Carleton Saturday and the Lakers Sunday.
The post-season is set in terms of who qualifies – Concordia and RMC have been eliminated, but there's a lot up in the air about where teams will finish, who they'll face in Round 1 and whether they'll have home ice.
Nipissing was upended on Saturday, losing 6-2 to UQTR on the road thanks to four straight Patriotes goals while on the man advantage.
Lakers Helping Their Own
The Nipissing Lakers men's hockey team made a donation to the NUSU food bank earlier this week - their fifth straight year doing so.
This year they donated, in partnership with Mike and Lori Sheehan from No Frills McKeown approximately 900-pounds through their fundraising efforts such as the celebrity waiter night at Boston Pizza.
Over the five years, the program has donated close to 2-tonnes (4,000 pounds) of food.