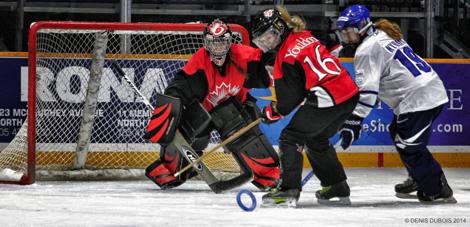 DENIS DUBOIS PHOTO
Team Canada got the start they wanted, but couldn't get the finish in Game 2 of the Sam Jacks Series against Team Finland.
The Finns claimed the Gold and the trophy in a 7-5 win Friday night at the 2013 World Ringette Championship, sweeping the best-of-three series.
But Finland had to first climb out of a 2-0 first quarter deficit.
"I would say in the first game, we played the first five minutes like we never played ringette before, our veterans, our rookies, everybody," said head coach Glen Gaudet, "We had rock hands, we couldn't spear the ring, we couldn't pass so today, they were relaxed. They played ringette like they can. We totally dominated that first period."
Finn goaltender Anna Nakki was busy early on, having to calm down the storm of shots Canada was throwing on her. She made 10 saves of 12 in the first and stopped 45 of 50 overall in the win.
Meghan Pittaway had her fair share of shots as well, making 34 saves in the loss.
The Finns were led by captain Marjukka Virta and Kirsi Pukkila, each scoring twice. Anne Pohjola had a goal and two assists. Sirri Kallionpaa and Riikka Hayrinen grabbed a goal and an apple each in the win.
The Canadians piled on and eventually cracked Nakki at 10:42. Jennifer Hartley snagged an assist on the play after missing a wrap around chance and finding her line mate Andrea Ferguson at the top of the crease. She put the ring up high for a shorthanded marker.
Kelsey Youldon extended Canada's lead at 12:39. Her initial shot at the top of the slot was blocked but her second chance was put off the post and in behind Nakki.
Youldon also collected two assists during the game. Jennifer Gaudet had a goal and an assist while her sister and captain Jacqueline had one helper. Ainsley Ferguson put up two goals on the night.
Gaudet says the team is a lot younger than a few years ago, dropping the average age by about four years. He claims he got "caught up in the moment" in Game 1 and "didn't let the game play out."
He says on Thursday, he switched up the lines. On Friday, Gaudet decided to run his lines, with very few substitutions, except on power plays.
Gaudet doesn't think Team Finland is necessarily a better team, but they might have more experience in coaching.
"I think we controlled as much of the play as they did," he said, "I tip my hat to them (though), they won the game. They controlled the ring in our end, they had more better shots than we did early on but just a bounce one way or another."
The bounces, coupled with a Finn power play that went 4-for-8 on the evening.
The Finns got on the board even strength 4:37 into the second quarter. Pohjola roofed the ring on Pittaway in the faceoff circle after play was whistled in.
A couple minutes later, the power play went to work. Virta cut into the high slot with the ring, finding a shooting lane and ripped it behind the goaltender to tie it up.
Then, Hayrinen got a quick shot away at 14:17 on a refreshed time clock and the visitors had their first lead going into the half.
Canada tied it up 3:46 into the third, Gaudet getting credit with a play down low.
Virta was at it again at 9:24, finding a bit of speed and ripping the ring into the net and at 11:56, Kallionpaa found some room in the slot and shot it 12 feet out to put the Finns at a multi-goal cushion.
From there, two more unanswered goals were scored at 1:18 and 7:54 of the fourth, both scored by Pukkila.
Ainsley Ferguson scored her first a minute later and then cut the lead back down to two at 14:40, but it wouldn't be enough on this occasion.
Gaudet says the team may not be happy right now, but he hopes all of them are back representing Team Canada and playing the sport they love.
"There's three or four that are veterans, we're not sure, they'll think it over whether they're going to play two more years," he said, "If they don't, I sure hope they get on the bench because they are great ringette minds."
Gaudet says he doesn't know who will coach the team but that the experience is phenomenal.
"That group will love each other, they had so much fun," he said, "They travelled the country together so I sure hope they're back."
He adds North Bay has been phenomenal and has had a great time since getting the Canadian coaching job two years ago.
"I love ringette and I got to watch the best players in the country for like six to seven months (battle for roster spots)," he said, "Then we picked the team and I got to be around what I think are the best 25 players in the country and they're all committed. They're all dedicated, they're all smart, they're all fun to be around. I don't feel like a 60 year old, I feel like a 25 year old when I'm around (them)."
"I had the time of my life, a great way to end my coaching career."
Results for Friday, January 3, 2014 at the 2013 World Ringette Championships in North Bay, Ontario:
President's Pool
USA 12 Sweden 3
Finland U19 9 Canada U19 4
*U19 Team Finland won the President's Pool
Game schedule for Saturday, January 4, 2014 (Eastern Standard Time):
11:00 Sweden vs. USA – Sam Jacks Series bronze medal game
15:00 Finland U19 vs. Canada U19 – U19 World Championship gold medal game
For more information on the tournament click HERE.
For the official Twitter account click HERE. You can also use the hashtag #2013WRC.
For the official Facebook account click HERE.
For the official YouTube site click HERE.
For a schedule of games available by live stream click HERE.