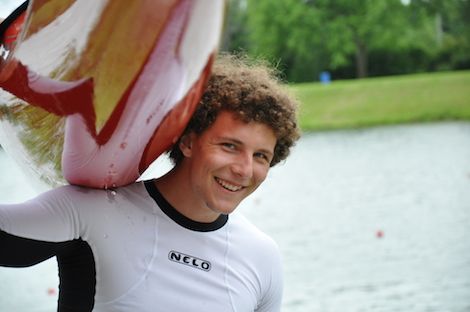 Friday the 13th was definitely not an unlucky day for North Bay's Davis Evans.
He was travelling to Welland, Ontario with his paddling Coach when he found out he had been named to the Canadian Junior Team that will compete for Canada in the Pan American Championships this September.
The Championships will take place in Mexico City from September 4th-7th.
Evans, who is paddling for the Rideau Canoe Club in Ottawa, will also compete in the Canada Day Regatta in Ottawa on June 28th and 29th, as well as the Lake Placid, USA International Regatta on July 6th and 7th.
"I was very excited to be named to the team," he said in a release.
"I have been working hard this past year and have made a lot of changes in my life for paddling. It is just nice to see it all come together." Evans, a grade 12 student at Widdifield Secondary School took second semester off to train in Florida and to move to Ottawa in order to prepare for this upcoming competitive season.
He will complete his grade 12 year this September.
"I won't get to graduate with my class or go to Prom but I am lucky to be able to chase my dream. This sport requires some sacrifices for sure but the payoffs are great. I paddle with some awesome people and I get excellent coaching from my kayak coach Wade Farquharson. He is a very technical coach and he has totally changed my paddling technique over the last year. My faster times this year are due to my hard training yes, but a big part of the credit has to go to my coach who has worked hard to help me reach my goals. My training group is pretty tight. We train hard; sometimes three times a day. We encourage each other and there is a lot of laughing. Rideau Canoe Club is a pretty positive training environment."
Evans believes the his commitment to the sport is paying off.
"I love paddling but it takes a huge commitment if you are going to be competitive. I had to move away from home and take a semester off school. My parents support me financially, and encouraged me to chase my dream. They also supported my decision to divide grade 12 into two years. My teachers at Widdifield have been very good to me. For the last few years they have provided me with work packages for me to take to Florida each winter and have emailed me lessons and assignments. They are a big part of my planning for the future. I have goals for paddling but I also want to be successful in school and have post secondary aspirations. Juggling those two goals wont be easy but I have a pretty good support team."