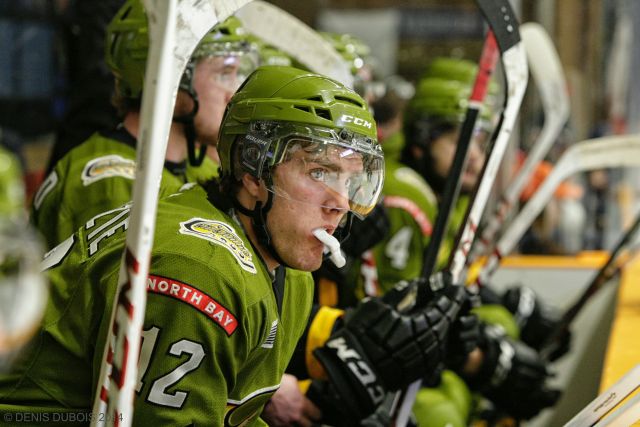 North Bay Battalion forward Brett McKenzie is still on the radar of NHL scouts, despite getting off to a slower start to his sophomore season than he and the team anticipated. International Scouting Services say they currently have McKenzie projected to be drafted in or around the fourth round of this summer's NHL Entry Draft, but still with a crucial second half of the regular season still ahead of him. PHOTO COURTESY OF DENIS DUBOIS
In the midst of his sophomore season with the North Bay Battalion and his first with NHL draft-eligibility, North Bay Battalion forward Brett McKenzie is trying to make the case for becoming property of a big league club come June.
After Central Scouting Services gave McKenzie a "C" ranking in their 2015 Players to Watch list, indicating a fourth, fifth or sixth round candidate for the next NHL draft, McKenzie knew full well what was expected of him going into his second campaign in the Ontario Hockey League.
But with just two goals and five assists through his first 26 games, the six-foot, one-inch McKenzie began the season at a slower pace than that of everyone's expectations, including his own.
Make no mistakes though, McKenzie himself isn't brainwashed with delusions of grandeur. Instead, he knows the first half of the season wasn't exactly what big league scouts were expecting to see.
"If I were to give it a rating out of 10, I would say it was probably four," McKenzie bluntly said of his play in the first half of the season.
"At the beginning, no I wasn't happy with how I was performing, no question," he said. "I don't think I got enough points for what I should have gotten; I just need to compete better and just try and get more points to help the team win."
The scouting bodies, too, have echoed that sentiment.
"At the beginning of the year we expected a little bit more offence to his game," Dennis MacInnis, director of scouting for International Scouting Services, told BayToday on the weekend.
MacInnis, though, insists that McKenzie has upside to his game beyond what the statistics say, and anyone who has frequented his games of late know that his ability to shut down the opposing team's best is valued within the Battalion system.
A major testament to that was on display when the team was going through a goal-scoring slump at the end of December and the early New Year, during which McKenzie and his then-linemates Hampus Olsson and Alex Henriksson were arguably the only Battalion line to consistently sustain a physical, threatening offensive attack.
"We currently have him in the fourth round; he's a solid power forward type player that brings energy and size," MacInnis explained of ISS's draft projection. "He plays a very solid 200-foot game, works hard and he has also got the pro size and he plays physical with it.
"Half the jobs at the NHL level are third and fourth line guys, and that's what we see Brett developing into," he continued. "He's responsible in his own end, he's physical, he can look after himself, protect his teammates and also chip in once in a while with the offence."
Subtle signs of that increased offensive output are beginning to shine through as well. Since the beginning of December, McKenzie has put up seven points through 11 games, including a three game point streak and a highlight reel, OHL Play-of-the-Week goal against the Oshawa Generals.
Overall, McKenzie said playing under Stan Butler's tutelage is having a positive influence on his pro potential.
"I think that the way Stan coaches is the right way, there are no shortcuts; it's always hard hitting, hard everything. I think that NHL teams recognize that style of play well," said McKenzie.
"The offence has to be generated by you; he's not forcing that style on you," he continued. "His game is more defensive, as everyone knows, so it is harder to get points, but that's really no excuse at all."
And with the Battalion lineup now set and established for the latter stages of the regular season, McKenzie said he is more motivated and inspired by the team's overall outlook.
With that optimistic outlook, he said he is also out to make good on the conversations he has had with NHL scouts.

"They have all said they just want to see me compete hard." McKenzie said of his communication with the pro teams. "Obviously they would like to see me put up more points and get more goals, but I feel like if I continue to compete then the offence will start coming.
"I want to prove that I can do it."