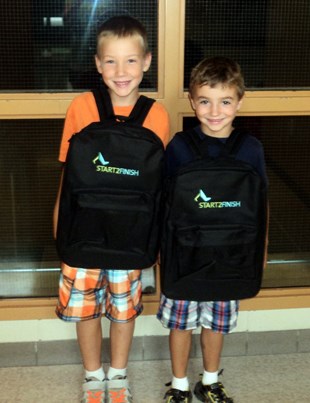 NEWS release:
North Bay, ON) – In May 2014, St. Gregory School students and teachers in Powassan collected money for the "Run 4 Change" program and on September 4, 2014 were thanked for their generosity.
"Run4Change" is a national initiative that addresses the two most critical issues facing Canadian children and youth today:
obesity/physical inactivity and child poverty.
"Run4Change" raises vital funds to support "Start2Finish", a national children's charity whose mission is to break the cycle of child poverty by providing ongoing educational support to Canada's at risk children throughout their school years, nurturing mind, body and social health so they are empowered to succeed and become role models for change.
Following the completion of this fundraiser in May, the students took part in a run at the school where each student had the
opportunity to be active.
Thanks to some generous donations, on September 4, 2014, Grade 1 through 5 students were presented with 100 packsacks filled with school supplies!