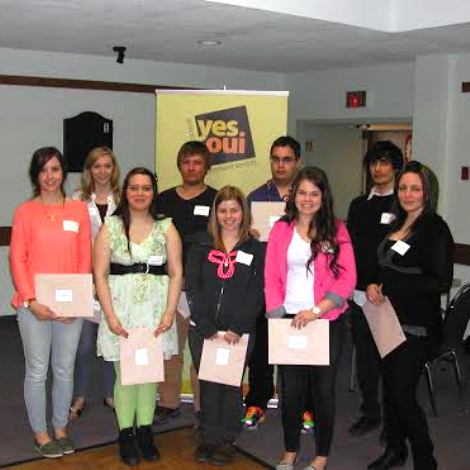 Standing left to right: Jessica Lyn Blackmore, Saxxon McLeod, Candice Boucher, Thomas Davidson, Kelly Vivian, Brandon Champagne, Brooklyn Desbiens, Richard King, Ashley Cunningham. Absent from photo are: Hannah Beaudoin, Robert Boni and Brittany Corston. Photo provided.
Continuing to celebrate their clients who, against all odds, have overcome obstacles and barriers to find meaningful employment Yes Employment Services recently held its 14th annual Yes Training Trust Fund (YTTF) awards ceremony.
Twelve clients, students, young workers or entrepreneurs, were recognised with a $300 bursary for their tenacity to in making special career achievements over the past year while facing significant challenges.
Yes Employment Services CEO Gisele Cousineau says the purpose of the awards ceremony is to recognize young people who have clearly identified their career goals and have adopted short and long term plans to reach this goal.
"These young people have had to overcome obstacles, sometimes serious in nature, to reach their goals."
This year the keynote speaker for the luncheon was Morgan Bentley who provided an inspirational account of the difficulties she had to surmount in her life and journey to employment.
The annual luncheon also celebrates community employers and this year ARAMARK Healthcare, West Nipissing Food Bank and TW Foods were honoured for providing outstanding training or employment opportunities to local youth.
Fundraising events are held annually to collect money for the bursaries.