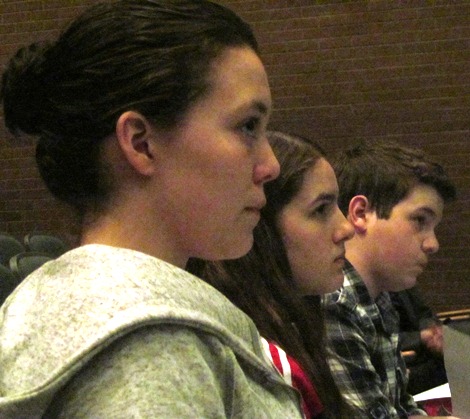 Grade 12 Chippewa student Hannah Wilcox, Grade 9 Chippewa student Maggie Wolfe and Grade 10 Widdifield student Darren Summersby listen to candidates answer the questions about the future of public education in Ontario Monday night during the Near North District School Board's meet the candidates event at West Ferris Secondary School.
It is the second largest portfolio for the provincial government and tonight Nipissing Riding candidates had the opportunity to discuss education with stakeholders Monday night as the Near North District School Board hosted the area's first meet the candidates event in the riding.
Libertarian Candidate Derek Elliott, Green Party Candidate Nicole Peltier, NDP Candidate Henri Giroux, Liberal Candidate Dr. Catherine Whiting and Independent Patrick Clement all turned out for the first of only two debates scheduled for the riding.
A conflict in his schedule prevented PC Candidate Vic Fedeli from attending. He was hosting an open house in Powassan.
The event, which was student focused, is part of the Ontario Public School Boards' Association (OPSBA) Education Day and was organized as a way to engage students, parents, faculty and other education stakeholders on issues impacting the future of public education.
Five well-spoken students varying in age and grades asked questions, which they had supplied to the candidates in advance, about the issues and hurdles they and board trustees face to keep quality in public education in Ontario.
One by one the students asked questions touching on everything from keeping an arts curriculum, mandatory physical education, mental health and funding inequity between school boards.
Green Party Candidate Nicole Peltier, NDP Candidate Henri Giroux, Liberal Candidate Dr. Catherine Whiting and Independent Patrick Clement all agreed that the arts curriculum is as important as math and science and needs to be funded accordingly, while Libertarian Candidate Derek Elliott says it's a matter of choice for each student.
"I would question anyone who would cut the arts," states Clement.
Candidates were conflicted in their answers when it came to funding inequity.
Giroux said his party has a funding formula that would help keep doors open.
"With the right funding formula every student would be taken care of."
While Whiting says it is not an easy issue when looking at economy of scales but the Liberals will stay on their current funding path.
"All schools are not same but I think we should make sure that things are equitable."
Clement says something is truly wrong at Queen's Park to see the disparity in funding.
"We gotta get rid of some of those people cause that isn't right."
Elliot says it should be fair and equal funding for all meanwhile, Peltier says she is shocked and horrified at the differences and by moving to a one school board system would fix the inequality.
Although they aren't old enough to vote in the upcoming election board officials say student involvement in the democratic process is key because they need an opportunity to express their concerns regarding education spending and decision making that will affect their future.
"I thought it would be a good time to hear what they have to say about my education and that I will be able to vote in a few years it will be nice to hear what each party wants to do," says Widdifield student Darren Summersby.
"I think that the candidates from each party should go to the schools and speak to students on what they want to do with our schools and our education."
As for walking away with a sense of understanding following the question and answer session, Summersby would give most of the candidates a failing grade.
"I am not satisfied with some of the candidates answers, I believe that they just said the same thing and didn't really answer what I (was) or the other students were asking."