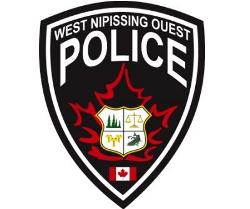 West Nipissing Police
News Release
*****
During the week of January 03-10, 2014the West Nipissing Police Service logged 155 calls for service. Among those were 39, 911 calls, 2 assaults, 1 break and enter, 1theft, 2 sexual assaults, 2 frauds, 3domestic disputes and 4 municipal by-law complaints.
On January 4th, a 25 year old male was arrested and charged with two counts of Sexual Interference after an investigation was initiated with information that the accused male had sexual contact with a 14 year old female during the month of December, 2013.
The accused male was later released on a Promise To Appear with conditions not to communicate with the female victim.
On January 4th, a call was received at the WNPS reporting that a female had just been assaulted.
Police attended and spoke with the female victim in which she stated that she had been assaulted by her boyfriend.
She further stated that an argument had started between the two escalating to the point that he allegedly threw her to the ground and hit her in the face area.
Officers later arrested the 52 year old male charging him with Domestic Assault.
He was kept in custody awaiting a bail hearing.
On January 8th, a theft complaint was reported to the WNPS.
Police proceeded to attend a Quesnel Rd residence and were told that someone gained access to the apt through a rear window and once inside stole an X BOX 360, games, 3 remotes and an I Phone.
Police has a suspect in mind and the investigation is ongoing.
On January 8th, a 17 year old female was arrested and charged in relation to an incident which had occurred on November 5th, 2013.
The accused admitted to police that she had taken her mother's debit card and on numerous occasions would have withdrawn money at local ATM's totally over $4600.
The female was charged with Theft Under $5000, Theft of Credit Card and Possession of property Obtained By Crime. She was later released on a Promise To Appear.
January 8th, West Nipissing Police Service officer was on general patrol in the Town of Sturgeon Falls when he observed a brown Chevrolet Impala travelling West on Front St.
The vehicle matched the description of the vehicle driven by suspect.
The officer was aware that the suspect was to obey a curfew. The officer followed the vehicle and confirmed with dispatch that the vehicle was registered to the suspect.
The officer conducted a vehicle stop at Hwy 17 and Leblanc Rd. and identified the driver. The driver provided the officer with his driver's licence and admitted to the officer that he was on house arrest.
The suspect was arrested and taken into custody. The suspect was then searched and found to be in possession of marijuana and a small bag of methamphetamine pills.
The accused had been released in July released on a recognizance of bail by Justice of the after being charged with multiple counts of break and enter, theft, and mischief. The accused was to obey a curfew to be in his place of residence at all times except in the company of a surety and was not to possess any substance included in schedules I, II, III, IV, V or VI of the CDSA except with a medical prescription.
The suspect now faces charges of possession of a controlled substance and breach of recognizance.
If anyone has information about these or other crimes, please contact the West Nipissing Police Service at 705-753-1234 or Crime Stoppers at 1-800-222-8477 (TIPS).
*****