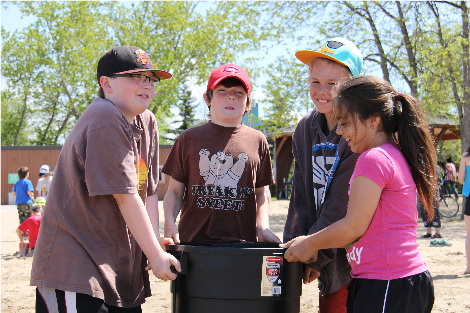 Owen Thornton, Jacob Laframboise, Justyce Bieuz, and Emily Arrowsmith, all of E.W. Norman school participate in a lesson that teaches how difficult it is for third world families to carry water and to appreciate how lucky we are to have taps with safe clean water. Photo by Jeff Turl
"I've learned today that water is more special than we think." said 10 year old Owen Thornton,
The student at E.W. Norman school had just finished a lesson that simulated what women in third world countries have to do every day...collect their family's daily supply of water and carry it long distances back to their home. .
He was one of 120 students taking part in the Near North School Board's water festival held at the waterfront today.
It was a four hour exercise organized by the board's Environmental Committee to teach students about watershed management and wasting water.
"Each activity involves a hand's on experience," teacher Shawna Etches explains.
"We're hoping that what they take away today is to be environmentally responsible, and then take that home to their families . So next time someone is spraying the driveway they can say "Dad, do you really need to be doing that? You know we are wasting water, and look at everything you are putting into the watershed."
"So the family then becomes more environmentally conscious in their everyday lives," she added."
The students, struggled, but laughed as they carried the barrels over an obstacle course to fill up, then empty the barrels.
"We want to show them how heavy water can be," said student volunteer Abbey Thompson.
"It's only a couple of metres away, but we wanted to show how hard it is to even move it that distance", she explained.
"It gives them a hands-on feeling about how it would feel to carry it all by themselves, so it shows them what these women and their families have to go through in other countries."
Alisha Hunter, a city summer student knows exactly what if feels like to not have a tap with fresh, clean water.
A couple of years ago she was in Madagascar volunteering to help women get water.
"It was the hardest day of my entire life,"she exclaimed with a smile.
"I can't imagine doing it every single day!" The women have to drag a 50lb can of water up and down a mountain, through piles of rocks....and if you fall...it's gone. But everyone goes about doing it like it's nothing."
Saving water was just one of the activities, others included phosphorous from fertilizer and how it affect the watershed.
And Emily Arrowsmith, 11, of E.W. Norman learned an important lesson about wildlife.
"I learned about ducks, and how if there is an oil leak it hurts their feathers so they won't be able to fly."
This is the first water festival for North Bay. Organizers hope to make it a yearly event, alternating between North Bay and the southern portions of the board's catchment area.