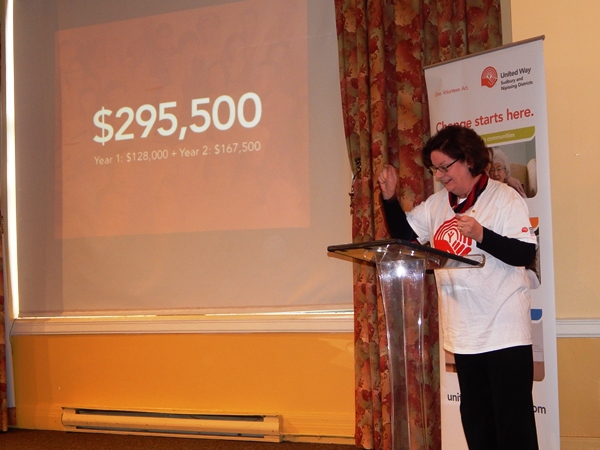 Campaign Chair Dr. Catherine Whiting gestures in joy at the United Way's successful workplace fundraising campaign. Photo by Dennis Chippa.
It was billed as a Campaign Celebration, and United Way Sudbury and Nipissing volunteers and staff did just that.
The end of the 2014 United Way Workplace fundraising campaign came Friday with a final total of over 165 thousand dollars, meaning 295 thousand dollars has been raised in the first two years of the three year campaign.
United Way Community Co-ordinator, Katina Matheson, says the thank you is a great chance to get those who fundraised, and those who benefitted, in the same room.
"They are all doing very important work in the community and to have those workplace partners supporting them is huge. I think a big part of it is hearing from the agencies, hearing their stories, what different needs remain. So they can see they can support the community and be part of something bigger."
Dr. Catherine Whiting, the campaign chair, says she is thrilled with the response.
"It is such a positive event to be involved in because I see continuous growth and wonderful support from our workplaces. I mean we now have workplaces that are on our list for five thousand, ten thousand up to twenty-five thousand now. So it's really quite amazing."
"I have an idea what the needs are in our community. To be able to support starting a little program or to keep one going, or just provide more for people who are in need. I think that's what's wonderful and exciting about that."
One such program that has benefitted was PADDLE, which supports people with intellectual disabilities and their families in their social, emotional and recreational needs.
Megan Johnson of PADDLE says the help is important.
"We need people from the community to get on board to make sure the guys that we support continue to have a great, meaningful, wonderful life. United Way has helped us continue with quality programs. Most of all it has allowed us to ensure that we can pay every fee for events that are available to our families and our participants."
Union Gas was honoured as a Workplace Champion, for going above and beyond.
Anna Iati of Union Gas says the fundraising can also be fun.
"We did raffle off a parking spot, we have office lunches on a weekly basis. We also have a big breakfast campaign that goes across all our districts. So it's not just North Bay, it's Sudbury, Sault Ste. Marie, Orillia, and Muskoka. We also have a funding matching campaign, so every dollar raised by Union Gas our corporate office will match that as well."
Those involved in the campaign admit with almost 300 thousand dollars already raised for its 400 thousand dollar three year campaign, they may have to change their goal for next year.
Which likely means more funding available for local non-profits this time next year.