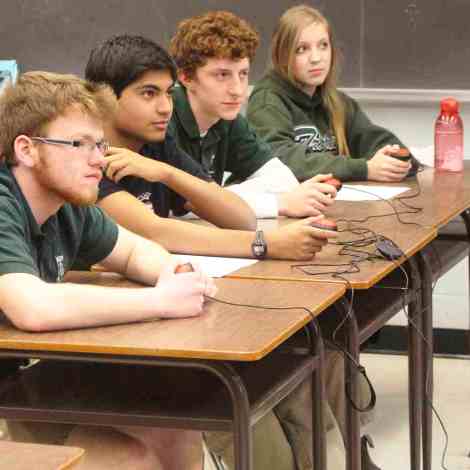 Team members of the Trojans include: Kieran Adamson, Meghan Bascombe, Kayleigh Garret, Thomas Pearce, Alec Taylor, and Jamil Merali. They are coached by Mark Robertson. Photo and story provided.
Thursday afternoon at West Ferris Secondary and Intermediate School, the host team defeated the Reach team from Chippewa two games to none to claim the regional championship.
With the win, the Trojan squad qualified to take on the top teams from across the province at the Ontario Championships, May 10-12 in Toronto.
The Trojans built early leads in both of the games and never trailed winning by scores of 270-230 and 230-190.
This is the fourth year that Reach for the Top has had a rebirth in the city.
Reach for the Top is a general knowledge quiz game that has teams of four fielding questions from topics ranging from physics and philosophy, to rap music artists and classic literature.