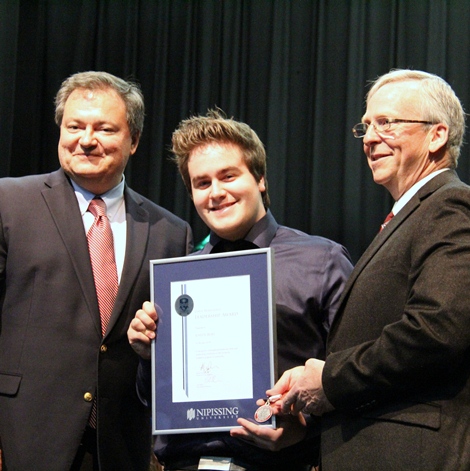 Joe Burt (C) accepts his Dave Marshall Student Leadership Award from President Dr. Mike DeGagne (l) Wednesday for his commitment to making Nipissing a positive experience for every one.
Nipissing University recognized a special group of students who stand out and take charge as student leaders Wednesday with the annual Dave Marshall Student Leadership Awards ceremony.
The awards, which were handed out by President Dr. Mike DeGagne in Marshall's absence, honours full-time students who have gone the extra mile to make the a significant contribution to their academic program, to the campus, or to the greater community.
University officials say the non-monetary award is a prestigious one that mirrors the dedication and leadership Marshall demonstrated during his 18 years tenure at the university's helm.
Each student nominated has demonstrated leadership, initiative, commitment and an ability to motivate and influence others towards the betterment of Nipissing University.
Award recipient Joe Burt told BayToday that receiving the award means a great deal to him.
"This is a big deal," he states.
Award winner Alexandra (Lexi) McKeon agreed noting that life on campus at Nipissing has without a doubt helped shape a girl from a small southern town into a leader.
"I would not be standing here before you if it wasn't for the encouragement of my N U family," she tells the audience.
"Whether it was professors, staff or fellow students I've always had encouragement and support and I know many students share the sentiment," McKeon told the audience.
The 2014 Dave Marshall Leadership Award recipients are:

Academic Recipients
Andrew Barton
Anna Johnson
Stephanie Robinson
Jordan Scott
Blake Zaumseil

Campus Recipients
Joseph Burt
Lauren Dunlop
Brittany Fisher
Alison Kavanagh
Alicia Ludlow
Makinna McCormick
Alexandra McKeon
Brittany Morrison
Brent Patrick
Kurt Tempelmans Plat
Janessa Williamson

Community Recipients
Johanna Fraser
Morgyn Graham
Allison McLeod
Sara Mercer