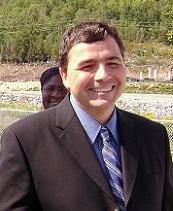 It will be Henri Giroux carrying the NDP flag in the next provincial election.
No other challenger had filed papers by the deadline.
The NDP will officially endorse Giroux at its nominating convention Friday May 2nd at 6:30.
The meeting takes place at the CUPE office at 120 Lakeshore Drive.
Giroux is presently vice-president of the local NDP Association.
Riding association President Jared Hunt says the membership is "anxious and excited" to get a candidate nominated for what he expects to be a late May provincial election.
More info at www.nipissingndp.ca