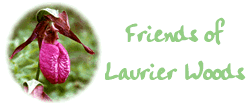 Friends of Laurier Woods
News Release
*****
The Friends of Laurier Woods, a non-profit charitable organization, has a scheduled spring interpretive hike for Saturday, May 17th, 9:00a.m., starting from the parking lot at the end of Brule Street.
The guided walks being held each Saturday throughout May are being offered at no cost to the public.
Laurier Woods, within the heart of the City of North Bay and adjacent to Home Depot, features a 6.5 kilometre trail network through significant wetlands and upland forest.
The two-hour walks, led by members of the Friends of Laurier Woods, will focus on the magnificent natural features within the Woods and offer visitors the opportunity to view spring birds including warblers, thrushes, kinglets and ducks.
For further information contact Dick Tafel at 705-472-7907.
*****