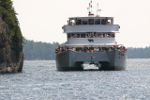 Help folks in the area living with Amyotrophic lateral sclerosis (ALS) by hoping on the Chief Commanda II and taking a sunset cruise around Callander Bay.
The 'Cruise for ALS' event is scheduled for Friday, July 4th leaving from North Bay Government Dock at 6:30pm and will last approximately 2.5 hours.
Tickets for adults are $32, students & seniors $29, youth (13-16) $22, child (5-12) $16, child (0-4) $5, or take advantage of the family rate (2Adults + 3 Children) $96.
Tickets go on Sale May 17th can be purchased at the Chief Commanda office in North Bay, or over the phone at Ticket info: 1-866-660-6686.
All ALS clients board for FREE.