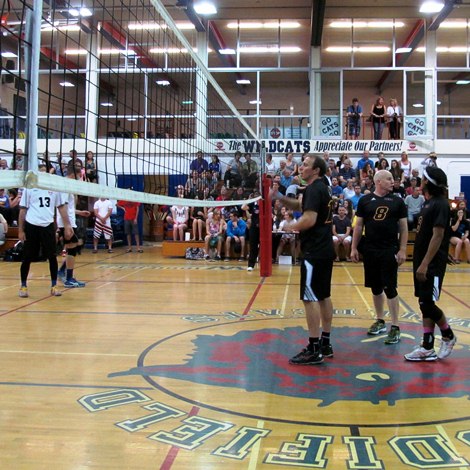 Widdifield Alumni & All-stars take the court Saturday night against the Olympic Masters for the tribute to Doug Jess volleyball game. Photo by Kate Adams.
What began as a simple class assignment quickly snowballed into the hottest sporting event ticket in town, a fitting tribute to a coach who gave everything to his students and a fundraiser for baby's battle with Leukemia.
A volleyball player, Grade 12 student Erin Hebert is well aware of the school's long standing tradition of the Olympic Masters versus Widdifield Alumni & All-stars Volleyball Game.
She also knew that Coach Mark Hopper was on the fence about hosting the event this year.
Hebert, along with fellow classmates in Tyler Kidd's Business class, was charged in with developing a business plan that includes organizing and hosting an event.
"Part of our exam mark is planning the event we decided like we wanted take it on and we wanted to have it, so he (Hopper) decided to go through with it and basically we started a couple of months ago planning the entire event."
Hebert's team jumped in, reached out to all the community partners and planned the event down to the finest details that included greetings from Mayor Al McDonald, a vocalist to sing Oh Canada, a floor show between games and a fitting tribute to Coach Doug Jess.
"It was Mr. Hopper's idea because they're having his celebration of life this year as well," she explains of how the tribute came about.
"And he just basically wanted pay tribute to him at such an event that he knew he would want to enjoy with the rest of the Widdifield community."
Hebert says her team didn't hesitate a minute before getting behind Hopper for the acknowledgement because looking back on her high school career she says it is coaches like Jess who helped shape the person she is.
"I think that is what makes high school so enjoyable," she states.
"That's the biggest part of high school for me, it's really like the coaches really develop you as a person and it really adds to your high school experience. It is probably like the best part for me."