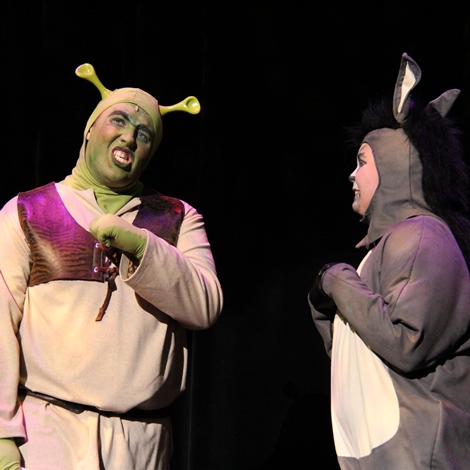 After a number of frustrating cancellations due to the cold snap this week the cast members of SHREK are set to walk the boards as the curtain rises at the Capitol Centre to open their show today.
Dreamcoat Fantasy Theatre reminds motorists to keep a watchful eye for students on the streets in the downtown core as they arrive and depart from the theatre.
*****
Dreamcoat Fantasy Theatre is proud to present SHREK, the Musical on January 21st, 22nd and 23rd for our school presentations and Jan 24th and 25th for our public performances at The Capitol Centre.
Under the direction of Jeff Graham and Chris Mogan and vocal direction by Fiona Spack, 83 children from grades 3 – 8, from all District School Boards, have been rehearsing at West Ferris S.S. since September to present this show at North Bay's Capitol Centre.
Shrek, the Musical debuted as a Dreamworks movie in 2001.
In 2008 it was developed into a Broadway musical. Dreamcoat is excited to be one of the first amateur theatre companies to have been granted permission to perform this entertaining show.
Join our unlikely hero and his loyal steed Donkey as they embark on a quest to rescue the beautiful (if slightly temperamental) Princess Fiona from a fire breathing, love-sick dragon.
Add the diminutive Lord Farquaad, a gang of fairytale misfits, and a biscuit with attitude, and you've got the biggest, brightest musical comedy around!
Tickets are still available for the evening performances on January 24th and 25th, 2014.
Tickets for the 7:30 p.m. performances are $17.00 each and can be purchased at Creative Learning or at The Capitol Centre box office.
*****