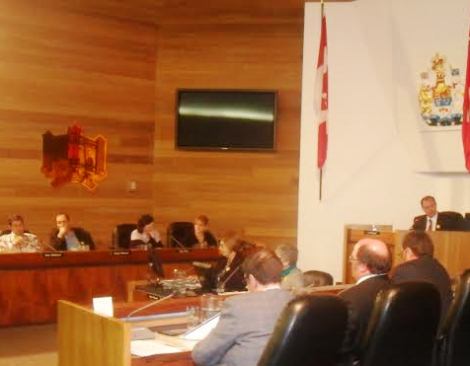 Monday evening saw City Council pass a number of by-laws and approvals around the city despite visible disapproval from some city residents.
Council chambers held many citizens who supported presenters as they each voiced their concerns before the council regarding various issues, however, on the whole, it seemed that council did little to satisfy the majority of those concerns.
Council first had a presentation from the North Bay Cancer Society, who announced that they have officially kicked off their Daffodil Campaign.
The annual fundraiser begins each spring, with donation boxes adorned with the beautiful yellow flower being offered to business within the community to help those who are fighting cancer.
A heartfelt presentation was made to council by a representative from the North Bay and Area Disabled Adult and Youth Centre, who is reaching out to the community in the form of a meet and greet, which is scheduled for Wednesday April 16th, between 5-7 pm at 217 Main St East in North Bay.
The organization, which provides a variety of services to individuals with all types of disabilities, is hoping that the community or the city can find funding for mobility assistance.
Next, council heard from local business owner Case L'Ami, who again was there to voice his frustration that the Lakeshore Drive project has continued to run long over its completion date and, with the city seemingly not having any teeth in their contracts, the project has not only angered him, but many residents and businesses in that area.
Council also had a presentation by a concerned citizen about the lack of tracking of City trucks on the job, as well as pointing out that a fire hydrant which located near his place of residence has been left open for the past three months, with no one from the city showing up to stop the leak.
The former St. Rita's church rezoning and development project also saw much debate, with councillors going into detail with reasons as to why they felt that the proposed development would harm or help the neighbourhood with regards to resident intensification.
The issue, presented to council by many over numerous occasions, was passed on Monday evening in a 7-4 in favour vote, a decision that may end up in the hands of the Ontario Municipal Board.
On a positive note, Monique Peters, thanked council on behalf of many for the 4-way stop in the Nipissing and Main Street area.
At the same time, Peters put in a request that the speed limit in that area be slowed down to 40 km, to which council promised to give more input following a traffic study.
Finally, a motion which was presented by Councillor Darryl Vaillancourt on behalf of the North Bay Parry Sound District Health Unit to purchase the building that they currently maintain as their address, was passed by council.