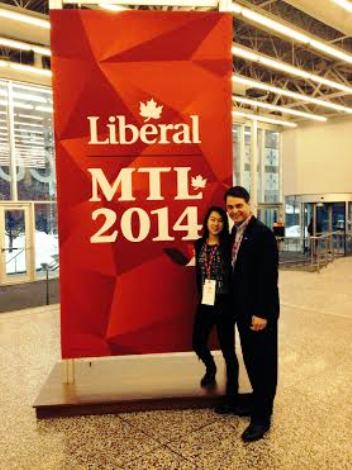 As Liberals from coast to coast to coast make their way home from Montreal on the heels of the Biennial Convention participants say the last several days were vital helping to shape the Liberals' ideas and priorities.
Party officials say Canadians from across the country came together to discuss how Liberals can build the team and build the plan that will create economic growth for the middle class.
For former MP Anthony Rota, who attended with his wife Chantal and daughter Sam as well as local riding association members which included fellow candidate Monique Lugli, says the convention helped strengthen his resolve in seeking the Nipissing-Timiskaming Liberal nomination and a return to Parliament.
"It's about building a country that Canadians can be proud to live in," Rota tells BayToday.
"We have to work together to build a country where citizens build something that reflects our collective successes."
"We as a party have stood with Canadians to build their dreams. It's time we get back to nation building together."
He says the mood of the party under Justin Trudeau's leadership is different than the last few conventions and that it has galvanised everyone with a common goal.
"The energy here is exceptional," he tells BayToday.
"The big difference from previous years is the increase in our youth delegates."
"It was also a thrill having the Nipissing-Timiskaming Young Liberals at the convention where I introduced them to many of my former colleagues."
"People are engaged, positive and ready to work."