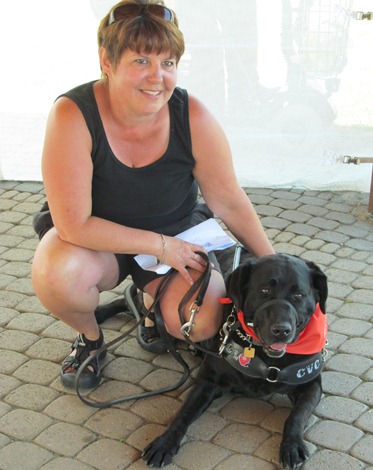 Melody Wright-Sampson and her guide dog Faith take in the Widdifield Lions Club's 14th Purina Walk for Guide Dogs on Sunday at the North Bay Waterfront. Photo by Kate Adams.
The 14th Purina Walk for Guide Dogs is a labour of love for members of the Widdifield Lions Club that translates into a whole new lease on life for individuals in the community living with disabilities.
Guide dogs are often the eyes, ears, and limbs for people living with disabilities and without the support and efforts of the local Lions' club as part of the larger national charity 'Lions Foundation of Canada Dog Guides' (LFCDG), many individuals would cease to live independently.
"This service is very important," event organizer Melanie Pigeau tells BayToday.
"I admit in the beginning I started because I want to do something with dogs and now is just so much more it's really about the people and getting to know them and what they how these dogs have change their lives."
"These guide dogs provide so much independence for these people in need and they are provided at no cost to the eligible applicants. It's upwards of $25,000 to fully train and place a guide dog into a new home."
Living with visual and hearing impairments Melody Wright-Sampson has come to trust and rely on her service dog Faith to help guide her through her daily life.
Referring to the dog as her partner Wright-Sampson says Faith guides her around town from climbing up and down stairs, to finding doors, stopping at intersections to finding curbs, Faith does it all.
"She has been my partner for six years now and I love her to death," she says with a huge smile.
Wright-Sampson says she couldn't imagine what life would be like without her guide dog.
"It's kind of been a sense of independence … more freedom. I trust her she finds things that are in my way."
"She's been my lifeline, yeah I couldn't do it without her."
It is stories like Wright-Sampson's that spur Pigeau on to making the walk a great event.
With 35 walkers, 50 dogs and over $4,500 dollars raised Pigeau says 2014 has been a banner year for the organization.
"I took over the walk two years ago. This will be my third year running it. Our numbers have doubled from last year it's absolutely amazing. I couldn't be more happier."
That success has prompted the club to hold a spin off fundraiser next weekend.
"We are running a dog wash for a minimum donation next Sunday."
Folks can bring their dirty dogs by the Northern Occasions parking lot on Lakeshore Drive, Sunday June 8th, from 12 noon until 3pm.