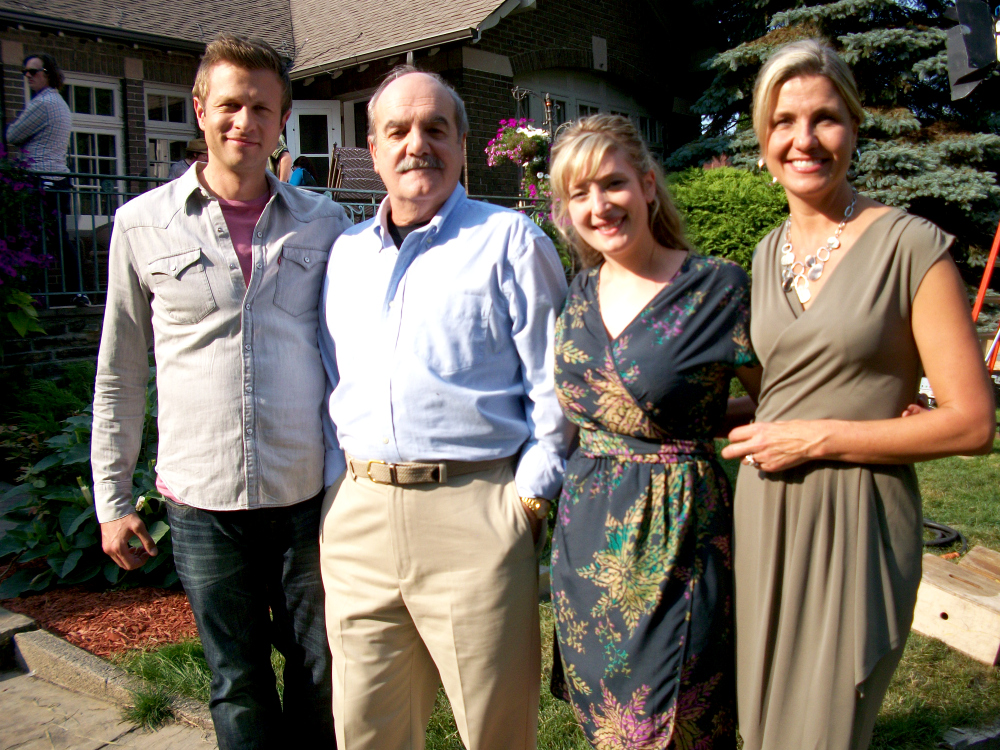 From left, North Bay actors Jamie Spilchuk, Jim Calarco Leigh Elliott and Marie Whitehead pose with Sudbury resident Marie Whitehead after filming an episode of Hard Rock Medical together in Sudbury last Friday.
Don't think North Bay actors have what it takes to star in prime time television shows? Think again.
If you're looking for some of the area's finest on-screen performances, look no further than the television drama Hard Rock Medical.
Now, for the first time since the show began filming, three of the four lead characters in an episode will be from North Bay after locals Jamie Spilchuk, Jim Calarco and Leigh Elliott wrapped up filming a segment last Friday.
The episode, titled "Things Are Going to Change," is set to run in the show's second season beginning in early 2015.
"It's unique in the fact that it's set in the North and it's hiring Northern actors; it really has a Northern feel to it," Calarco said of working on the show. "This series is concerned with hiring Northern Ontario actors for a Northern Ontario project.
"Anytime we're out there on set, we want to make sure people know we're from North Bay."
Spilchuk plays the recurring character Cameron Cahill, who is the product of a very wealthy family. His father, played by Calarco, is the president of Infalco Mining Corp. and does not see eye-to-eye with his son on a lot of issues.
Elliott, who plays Spilchuk's love interest, will appear in three episodes in the second season.
The drama revolves around a group of eight medical students at Boréal Medical School in Sudbury. The students face the challenges of learning a traditional medical curriculum while coping with the unique demands of the school's focus on rural medicine.
Even though the genre-specific medical drama might sound generic from the out-set, the show has been praised for it's unique approach to an otherwise saturated niche in television drama. The Globe and Mail called the series pithy, funny, inventive and "as far from Grey's Anatomy and its copycats as you can get."
Despite not getting too much recognition at first because of its limited exposure with TVOntario, the series was soon picked up by APTN and began getting the national exposure that critics felt it deserved.
Hard Rock Medical is TVO's first commissioned drama and now, after the success of the first season, which began on June 9, 2013, they are underway with the filming of the eight-episode second season. The cast and crew began filming on July 28 and will wrap up at end of this month.
But it's behind the scenes where Medical becomes even more unique.
Whereas most television and movie shoots are quick to cast into the deep talent pool further south, Hard Rock Medical is taking a more homegrown approach. Of the 27 new parts in the series next season, 20 are from Northern Ontario, most of which are lead roles.
Even more encouraging is the fact that 18 of the actors are from North Bay, two of whom were recurring roles from the inaugural season.
"One of the goals of the series is to find a way and a place for the Northern talent to play a real and a prominent role in productions," said Derek Diorio, the show's director, producer and contributing writer.
Diorio says the roles typically reserved for Northern talent are "leftover" roles: small roles that are cast in the North as a means of saving money due to lack of transportation and accommodation fees.
But Hard Rock Medical, on the other hand, is the first of its kind to apply what Diorio calls the "area code rule," hiring local and nearby talent first and foremost. Even the music in the show is performed by Sudbury-based artists.
"I don't believe area code is a determinant of talent," Diorio explained. "416 and 818 don't automatically make you great. There is talent everywhere and you have to be open to finding it."
Calarco, who also operates a talent agency in North Bay, called North Star Talent, represents 17 of the local actors in the series. In total, Calarco's company represents 39 professional actors and 17 non-union actors, all of whom are from the North.
"People, in general, feel really good that our people are getting hired in big roles because they know there's hope and opportunity for them too; it just takes time," Calarco explained.
"If they come in and look at somebody from North Bay who has two or three movies under their belt, they're not afraid to give them a job," Calarco continued. "Once you've proven that you can do it, other productions are more willing to take that chance on you."
To watch the first season of Hard Rock Medical in its entirety, visit www.aptn.ca/hardrockmedical.