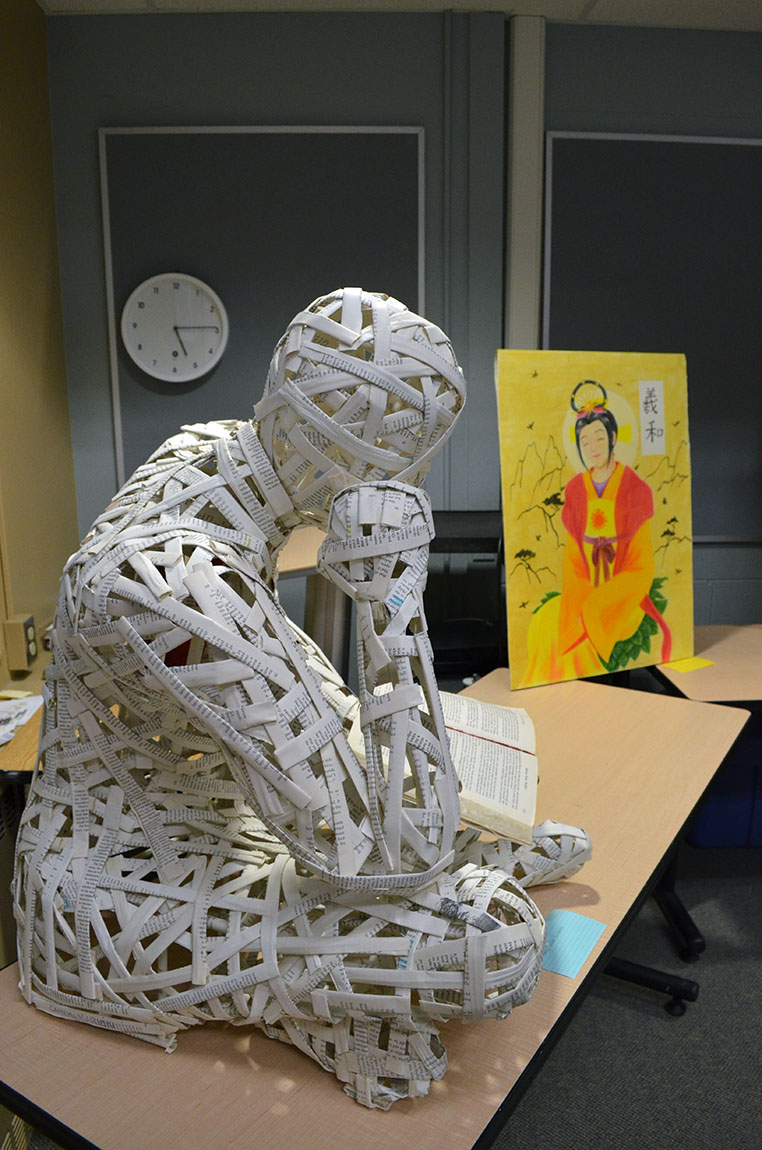 Caitlyn Marion, a first year art student, created the paper sculpture titled "Our Story." In the background is "Chinese Sun Goddess," a drawing by fourth year student Katherine Yee. PHOTO BY CHRISTINE ROY
The North Bay Art Student Club (NBASC) took the initiative in order to help first and second year students show their art to the community.
The members, all students at Nipissing University, set up an art exhibit at the monastery on Tuesday evening. Called the End of Year Gala, pieces of art from sculptures to oil paintings were on display.
Sarah Marinelli, a fourth year student, was one of many who helped organize the exhibit.
"A lot of first and second year students showed a desire to show their work and weren't really comfortable entering them in the well-known galleries," Marinelli said. "We wanted to give them an opportunity to show stuff they were proud of."
Dennis Geden, one of the instructors, was present to see the art on display. The obvious pride in his students is easy to hear by the tone of his voice during an interview.
"The faculty wasn't involved with it. (The NBASC) opened it up for any student who wanted to enter work," Geden said.
This is the first year the NBASC have had the gala and Marinelli, who will back for directed study next year, hopes it won't be the last. Helping the first and second year students get used to exposing their work is something they want to work on.
"There's still that intimidation factor so we're trying to promote more (towards) them, to get them more comfortable earlier on in the program," she said.
The Gala was free to the public and there were snacks and drinks provided for those who attended.