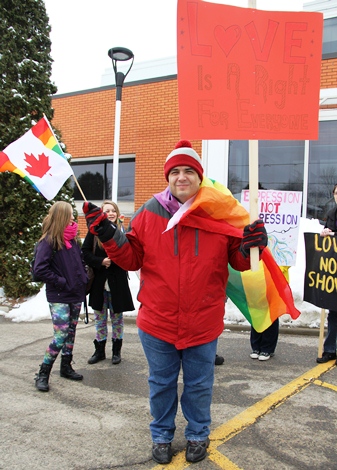 Everyone should feel safe and welcome in their home, school, job, and community is the message lesbian, gay, bisexual, and transgender (LGBT) members of Pride on Campus wanted to deliver to the community Saturday.
The group in partnership with the North Bay Police Service took that message to the streets by way of the second annual Pride Parade.
Once again Derek McIntyre (pictured) was front and centre for the Parade hoping his strength to be out and proud in the community will continue to bring about change and at the same time offer support to other folks who identify as lesbian, gay, bisexual, or transgendered.
"We're part of North Bay as well," he tells BayToday.
"The LGBT community in North Bay is a lot more visible then it was a number of years ago."
Part of growing a louder voice and stronger presence in the community has been the support the from city officials including the North Bay City Police.
Police Chief Paul Cook who marched with the group says it is important to send a strong message that the city is one that is open, accepting and inclusive.
"For us it's really important to help break down barriers, show that there is that partnership that exists between our police service and the local members of our LGBT community.
Cook says they have received reports of harassment, threats and assaults and the message from City Police is simple it will not be tolerated.
"I think as a society we're making a lot of progress but there's still a long ways to go.
Due to a conflict surrounding the parameters of journalists at a public event, organizer and Pride on Campus representative Kay rescinded her interview with BayToday.