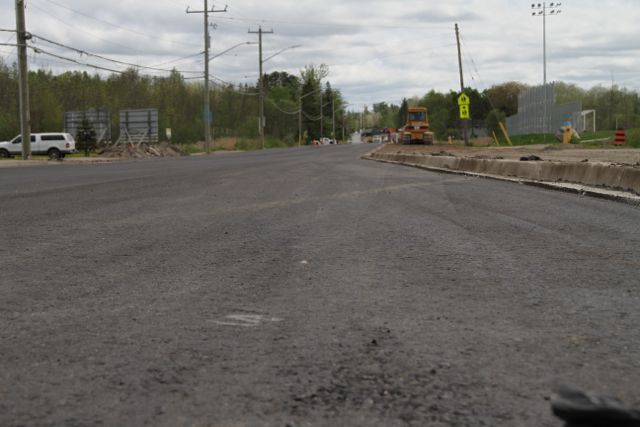 Nice and smooth! Paving is already almost complete on the south end of Lakeshore Drive. The hot asphalt plants just opened on Tuesday. PHOTO BY CHRIS DAWSON.
Seeing Mayor Al McDonald's comments through social media early this week, you know city officials are thrilled that the asphalt plants are open and road crews are getting busy.
"I never thought I would be excited about asphalt plants opening...but I am after what this weather has done to our roads," stated the Mayor on Facebook on Tuesday when the plants opened.
It was a nasty winter for sure.
Public Works Director Alan Korell believes the past two winters have been the worst on city roads since the turn of the century.
"This year was a particularly bad year, I mean this year and last year we had long winters," said Korell from his office on Wednesday afternoon.
"I mean if you think back 3, 4, 5 years ago, we hardly had any winter actually and the potholes weren't nearly as bad. If the frost doesn't go down deep and if we don't have a lot of cold, hot-cold, hot-cold, it makes it a lot better. This year is the worst, last year was probably the second worst in the 10 years that I've been here."
However, the good news, this past month has been perfect for the cold asphalt repairs.
"Right now it's better than it was back then because right now the frost is all out of the ground. We've had relatively nice weather with very little rain so now the potholes we've fixed in the last little while have stayed there, they didn't pop back out like they do in the winter time because we are only allowed to use new cold asphalt in the winter time; a water based one as opposed to an oil based one like they used to - a Ministry of Environment requirement - but they don't stay as long, so now we are glad we are starting the permanent repairs."
Korell says the city will spend 5 million dollars on repairs and resurfacing along with other capital projects like the Lakeshore Drive resurfacing on the south end of the major artery.
"They started paving Tuesday. Tthey've got almost 2 lifts done on Lakeshore Drive already done, I think Ferguson street is another one that should be paved this week and then there's Ski Club Road, so so right now we've got both asphalt plants working for the city right now so that's a good thing."
At the end of the day, Korell reminds motorists that bad, bumpy roads are a reality of living in Northern Ontario.