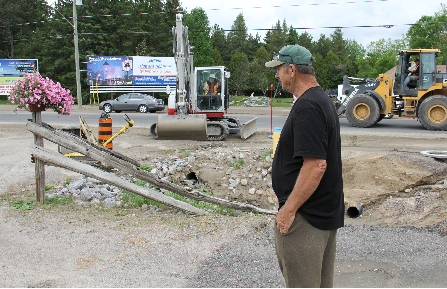 Case L'Ami watches as equipment partially blocks access to his garden store. Signs on Lakeshore Drive still say "Road closed". Photo by Jeff Turl
North Bay businessman Case L'Ami is promising a lawsuit over the city's handling of reconstruction of Lakeshore Drive's south end.
"They're gonna have to pay," says the owner of L'Ami's Garden Centre.
"I've got a lawyer in Toronto. They're in big trouble," he emphasizes with a nod of his head.
L'Ami is determined to see justice done.
"Absolutely, absolutely. I'm not a guy standing here who will take people, we pay good money for, to don't do their job."
"I work hard at what I do. I pay my taxes, $20,000 a year. They haven't come to me with even a suggestion of saying, "listen, we screwed up. We've got to do something.""
"I'm not happy. If you spent 30 years building up your business and you lose it all in two years...all your savings are gone."
He blames city staff.
"There's a lack of planning in everything they do. It's just "let's dig a hole and see where we end up"."
L'Ami wearily watches mid morning as an excavator partially blocks the entrance to his business to fix a minor washout near a culvert.
And it makes him angry.The machine sits idle.
"They just park the machine and they leave, just like that. You have to be here everyday and see all this."
He can't understand why they wouldn't fix it early in the morning before he opens, instead of waiting till mid-morning when customers are trying to get to his garden store.
"I'm not a difficult person," he sighs. "I've never bothered the city ever. But this is my bread and butter."
He gives numerous examples of businesses that have laid off workers in the city recently, but steadfastly, he held on to all of his employees over the construction period.
"I took the pill, but it cost me plenty. If we were a big company we would have laid them off, but I guess I'm just not smart enough."
L'Ami looks out over his parking lot, full of plants waiting for people, and expresses gratitude for all the support from customers.
"North Bay is a very nice place to live and my family enjoyed living here. But that doesn't mean we can't speak our mind and improve on things," he explains.
He questions, "You can find 16 million dollars to fix up Memorial Gardens, but you can't find money for the local business people to get things done?"
He shakes his head.