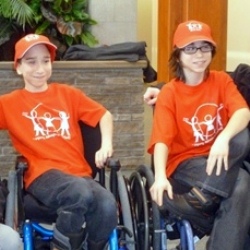 The Rotary Club of North Bay launched its annual fundraiser with the help of this year's Rotary4Kids 12-year-old twin Ambassadors, Dominque and Issac Dube (pictured) morning hosts Kevin and Big Mike along with representatives from the Nipissing Association for Disabled Youth (NADY), One Kids Place and the Callander Bay Dental Centre Tuesday at One Kids Place.
The radio-a-thon fundraiser, in its 12th year, brings the Rotary Club and NADY together to raise the much needed funds to support programs for local children and youth with special needs.
Kevin and Big Mike will kick off 'The Longest Morning' 5:30 am on Wednesday, April 2nd live from the Sears Court at Northgate Shopping Centre and will broadcast live till their wrap-up breakfast at Burger World on Algonquin Avenue April 4th, from 7-10 am.
Pledges can be made online now at www.rotary4kids.ca or during the 53 hour show by telephone at 705-492-7330, or in person at the Rotary pledge table at the shopping centre.
"Since its inception, the radio-a-thon has raised over $650,000 that has gone towards numerous Rotary Children's Committee projects - from special bicycles, lifts, computers, kid's bridge club, communication aids, home renovations, to elevator systems and vehicle conversions," states Rotary4Kids Chair, Jeff Rogerson.
The committee also provides approximately $30,000 funding on an annual basis to NADY.
"The success of this fundraiser would not be possible without the very generous support of individuals and families, and some many organizations and businesses, both large and small, in our community," adds Catherine Whiting, Club President.