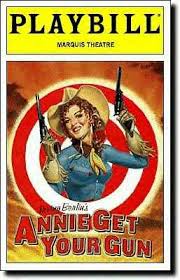 Highland Players
News Release
*****
The Highland Players present ANNIE GET YOUR GUN at Land of Lakes Senior Public School Theatre on April 24th, 25th, and 26th at 7:30 P.M.
On Sunday, April 27th the show closes with a 2:00 P.M. matinee performance.
The show will be the 33rd production of the Highland Players, since the group's inception in 1990.
Any story that blends romance, show business, the Wild West and the unforgettable music of Irving Berlin has to make for an extraordinary night at the theatre.
ANNIE GET YOU GUN doesn't disappoint!
The story of ANNIE GET YOUR GUN is a fictionalized version of the famed American sharpshooter Annie Oakley and her exploits with the celebrated Buffalo Bill and his Wild West Show.
Set to the immortal music of Irving Berlin, the show contains such musical theatre classics as, "There's No Business Like Show Business", "Doin' What Comes Naturally", "You Can't Get a Man With a Gun", "They Say It's Wonderful", "My Defenses Are
Down" and "Anything You Can Do".
To bring ANNIE GET YOUR GUN to life on the Land of Lakes stage, the Highland Players have brought together a phenomenal production team with credentials from all over the Almaguin Highlands. Bob Davies directs the show with musical direction by Doug Sewell, Linda Barry and Greg Moeser.
The show is supported by a dedicated and creative line-up of talent from the area.
The entire volunteer cast, crew, musicians and production team have united to provide an evening, showcasing local theatrical and musical talent.
Tickets at $12.00 each are available for this special event at the door, and in advance at the following locations:
• Heritage House in Burk's Falls
• Zaks in Sundridge
• Kwik Way in South River
• Summer's Attic in Magnetawan
As mentioned, ANNIE GET YOUR GUN will play Land of Lakes Theatre in Burk's Falls from Thursday, April 24th to Saturday, April 26th at 7:00 P.M. and Sunday April 27th at 2:00 P.M.
*****