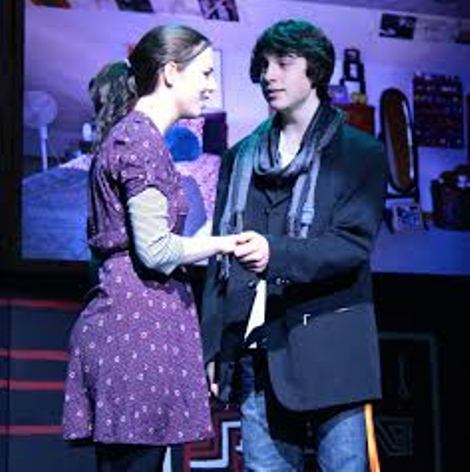 Bears Drama Department prepares for Sears Festival at the April 7 dress rehearsal. Photo by SJSH student Sierra Mercer.
Area high schools' best and brightest talents are bundles of nervous energy as they get ready to slap on some grease paint, fire up the foot lights and tread the boards at this week's annual District Sears Drama Festival.
From Shakespeare to the world of Social Media and all stops in between the students have been rehearsing their one-act shows for months to showcase, learn and celebrate their love of theatre with fellow area students and the public.
The festival, which runs Thursday April 10th and Friday April 11th, will be hosted by St. Joseph-Scollard Hall (SJSH) this year and will highlight six schools from the region including 'To Burn A Witch' (Chippewa SS), 'Riffs' (Almaguin SS), Macbeth (Widdifield SS), Je suis qui Je suis (Algonquin) and 'All the worlds a stage' (West Ferris).
The SJSH Bears have been working on a timely piece titled "Winning Juliet," a play about cyber-bullying, and the cast and crew will previewed the work to its student body today (Wednesday) as final dress run in preparation for adjudication by Nicolas Van Burek on Thursday April 10th.
"Winning Juliet" is a fictional story that follows Julie, a new girl at Scollard Hall High School who is intelligent and friendly, and a perceived threat to the most popular girl in school, Gwyneth, especially when competing for the role of Juliet in Romeo and Juliet.
What follows is a reflection of how social media creates difficulties in the school environment when not used responsibly.
"I wanted to choose a play that was relevant to the age group, yet interesting to watch," notes SJSH Drama teacher Jeff Graham.
He also notes that the students have incorporated three large screens to move the audience from scene to scene as the story unfolds through social media including Facebook, Twitter and Instagram live during the play.
Trojan Drama teacher Al MacAskill who is working feverishly with his students to polish their production says the Sears Festival, the longest running drama festival in North America, is the OFFSA finals for arts students.
He says drama is an outlet for students who may not engage in other activities at school like sports and the festival is one way to capture a student's attention and keep them involved at the same time providing a sense of pride and confidence.
"There's athletics in all the high schools and that's great for team building and leadership but theatre does that too and I think in a special way because all of them (students) are working together towards a large project that they can be proud of."
Meanwhile, Chippewa student Jackson Beam proving the apple doesn't fall far from the tree showed leadership as he stepped up to direct the school's production of 'To Burn a Which'.
Till now Beam, the son of the Dreamcoat Fantasy Theatre dynamic duo Blake & Michelina and brother of award winning actor/director Jesse, has stayed buried deep backstage shying away from the theatre limelight.
"This is my first time directing so I thought it would be a cool thing to try and nobody else was looking to do a Sears show," explains Beam.
"Miss Lefebvre came to me and offered and so I thought it would be a good thing to try."
The play, based on the Salem witch trials, is a small stripped-down not highly technical four hander which seemed to be just right for the novice director.
"It was last minute with the timeline that we had I thought it was a good fit," says Beam.
"We have a couple of good strong girls here so it was a good script for them to be able to work on."
One of the actors is Beam's sister, Riley, which could be another notable first for the festival as it is not often you find a sibling directing another sibling especially not at the high school level.
Beam says student directors tend to catch the attention of adjudicators especially when it comes to handing out the hardware.
"The adjudicators really like to see that students are taking on that responsibility so they're trending towards it a little bit."
And in the spirit of a school project Beam says the whole process has truly been a learning experience.
"I thought I knew tons about what goes into putting on a show but this has been a bit of an eye-opening experience as to what goes on during the rehearsal process," he tells BayToday.
"Often when I'm involved in a show I come in maybe a month to two months before the show goes up and learn how to do what I need to do, well this is been a little bit more difficult for me because I've been having to run it all the way through so it's been sort of interesting to learn what goes into it right from the get-go."
Regardless of winning an award or not the process has sparked the directing bug in yet another Beam.
"I'd be interested in doing this again yeah absolutely."
"I'm not getting my hopes up too high as a first-time director."
The Sears Drama Festival is a competitive festival in which awards are given out for proficiency in all areas of theatre, and some of the plays will move on to the Regional Level which will be held in Cobalt on April 24, 25 and 26.
The public can purchase tickets to the Sears Festival at the Bishop Carter Auditorium on show nights for $8.00 on the evenings of Thursday April 10 and Friday April 11.
Curtain time for all shows is 7:00 pm sharp.
Tickets are not available for advanced sales.
An awards ceremony will follow the plays on Friday April 11.