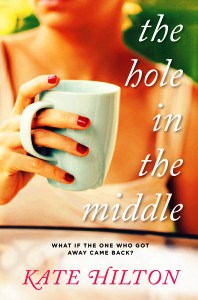 Having it all – is it really all it's cracked up to be?
That is the question Kate Hilton explores with character Sophie Whelan in her wildly popular book 'Hole in the Middle'.
Hilton describes Whelan, who mirrors her life and the lives of any other 40 something Canadian women, as the epitome of the modern superwoman taking on everything from dealing with a job, cranky children, PTA meetings to hosting dinner parties all in the same day.
"I wrote my first novel for 3 hours per week on Sunday afternoons while working full-time and raising two young boys," she tells BayToday.
Hilton was at Gulliver's last week promoting Hole in the Middle and took time out to talk with BayToday about the book.
She tells us the book was a true labour of love from start to finish and proves that with commitment, determination and self-belief people can accomplish anything.
"Unable to find an agent or a publisher, I decided to self-publish, and to my surprise, the book was wildly successful -13,000 downloads in 3 weeks."
"As a result, an agent called and offered to represent me, and she sold The Hole in the Middle to HarperCollins within a week."
"HarperCollins released the book just before Christmas, and since then it has received great press and has been on bestseller lists across the country, including The Globe and Mail, The Winnipeg Free Press and the Calgary Herald."