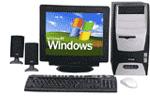 Kinsmen Club of North Bay
News Release
*****
The Kinsmen Club of North Bay are sponsoring a Computer Fix for Kinsmen Charities which includes Cystic Fibrosis research on January 25th at Northgate Square from 10 until 3o'clock.
The cost for the repair is $40 plus any additional hardware or software.
The repair technicians are all well trained in computer repairs; so if you computer is sick, needs to be checked for a virus, needs anti-virus installed, needs programs reinstalled or just an overall tune up, our technicians can do it for you.
Last year's event was a great success and people expressed that they would support the event again this year because they were pleased with the service.
So come out and get the hic ups fixed in your computer and support the North Bay Kinsmen Charities at the same time on January 25th at Northgate Square.
Computers will not be accepted after 3pm due to time constraints.
So come early to ensure your computer will be looked at.
*****

View Northgate Shopping Centre in a larger map