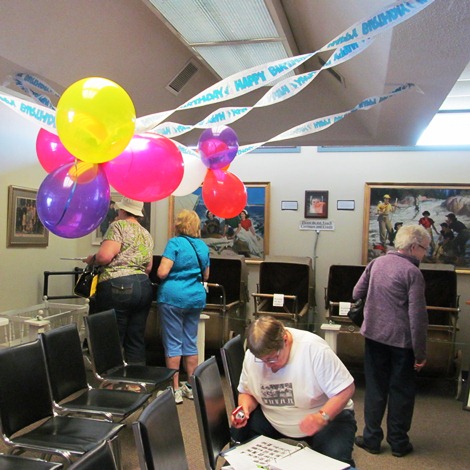 Lani Pettit of Sioux City, Iowa (c) looks over pictures of the Dionne Quints while other folks look at artifacts at the Dionne Quints Museum on Seymour Street Saturday. Pettit is in the area this week to mark the milestone 80th birthday of the Quints. Photo by Kate Adams.
In 1940 June Mannella, in the care of her uncle and cousins, made the incredibly long journey from Windsor to North Bay to negotiate the long lines in Corbeil just to catch a look at the "Miracle Five".
"They were in the sandbox and they were all playing," says Mannella.
"I thought, this is quite a memory and experience."
Mannella, who now lives in South River, joined two dozen fans at the Dionne Quints Museum Saturday afternoon to help celebrate the milestone 80th birthday.
Mannella, who turns 80 this month, was thrilled to take a walk down memory lane.
"This was a present to myself," she says wih a huge smile.
Audrey Dionne-Brown, sister-in-law to the Quints and acting for the two surviving sisters Annette and Cecile Dionne, was on hand for the celebration.
"It's bittersweet," she notes.
"We want this museum to do well, to stay open, and it should. They are part of Canadian history, and as you say, they did put North Bay on the map and Canada was well-known all over the world because of them."
She understands collectors around the world value the Quints' story and treasure items of memorabilia, but she draws the line at the public still trying to profit from the girls.
She notes items, if authentic, should be in a museum.
"Not try to sell it and make money out of it," she says.
"You have to remember, if she has a dress, where did that come from. A lot of things were stolen from them when they were in the hospital."
"They were babies and they never left there until they were 7 years old. And whatever was in there was never given to the family, it was taken from them and that's not right."
"Little trinkets could have been given to their children and grandchildren, and they never had that chance."
Dionne-Brown, who was married to their brother Daniel Dionne, says the two surviving sisters and not in great health and have earned the right to live out their twilight years in peace.
"I think it's time that people let them rest."
"As far as trying to get in touch with them, they just want peace and quiet right now."