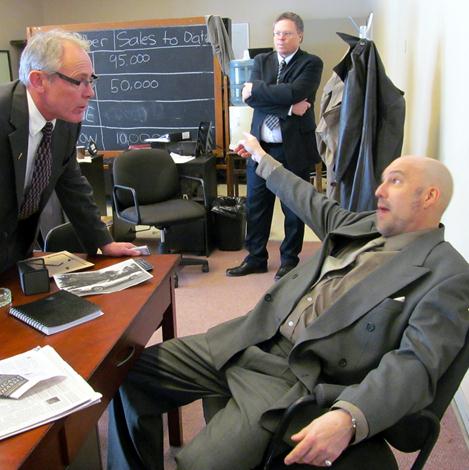 John Hewitt (Chicago detective), Mitch Belanger (George Aaronow) and Rod Carley (Ricky Roma) rehearse a intense combative scene from the Pulitzer Prize-winning play, Glengarry Glen Ross.
It's a cut throat world and closing the deal is everything in David Mamet's classic Pulitzer Prize-winning play, Glengarry Glen Ross.
Produced by Anna Iati, the play is set in Chicago and documents a Reagan-era group of real estate salesmen as they lie, cheat and steal their way to the top of the leader board and leaving no one in their wake.
The Gateway Theatre Guild proudly presents the Northern Ontario premiere of Glengarry Glen Ross as its 2014 entry for the QUONTA Drama Festival in Sault Ste. Marie.
Most definitely not a family show, Glengarry Glen Ross is directed by up and coming director Joshua Bainbridge, and an all-star male cast:
Verlyn Plowman as aging salesman Shelley "The Machine" Levene
Rod Carley as the smooth-talking Ricky Roma
Brad Carr as big-mouthed Dave Moss
Mitch Belanger as the hapless George Aaronow
Morgan Bedard as office manager John Williamson
Blake Cerisano as the client James Lingk,
John Hewitt as the Chicago detective, Baylen
Glengarry Glen Ross runs in North Bay for 4 nights only Wednesday February 19th to Saturday February 22nd at Ecole Publique Secondaire Odyssee on 480 Norman Avenue.
Tickets available at Gulliver's are $18 in advance, $20 at the door and $10 for students -, at the door or by calling 705-358-1425 or visiting www.gatewaytheatreguild.ca.
Curtain time is 7:30 p.m. Sharp.
Please note this show contains Coarse language. Mature Content.