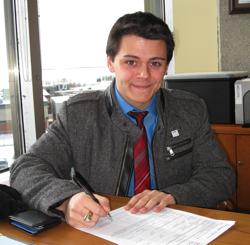 The political bug has bitten Sheldon Forgette.
And now the North Bay native is scratching the itch.
The 22-year-old Forgette was first in line to register his candidacy for the 2014 Ontario municipal election, which will be held on Monday, October 27.
Lacking any political experience on his resume, cracking the top 10 vote getters, which would earn him a spot at the council table, will be no easy feat, though.
After high school at École secondaire catholique Algonquin, Forgette hit the road for university in Ottawa where he studied political science.
That piqued his interest in finding a way to help in his hometown – where his family still lives.
He does not look far from home for inspiration; he speaks in glowing terms of both his single mother and his grandfather.
"I've never been politically active," he said. "In the last three years, it's something I have been thinking about doing. I want a career in federal politics."
He is well aware his age will be a factor and hopes voters see his youth as an opportunity.
"I'm part of that young generation that wants to be involved in helping our community," he said. "Ultimately we are going to inherit this city."
But, he is quick to point out he does not want his age to define his candidacy.
"I don't want to say that I represent the younger generation," he says. "I think that I feel a lot of the younger generation's pain. They want to grow. They want to advance themselves. And I just want to see that happen in our town."
A council spot would not be without precedent in Ontario for someone Forgette's age.
Steve Clark, currently MPP for Leeds-Grenviille (PC), was mayor of Brockville from 1982 until 1991 and was first elected at age 22 – making him the youngest mayor in the country at the time.
And although rare, there have been councillors elsewhere in Canada elected as young as 18-years-old.
"I'm going to be new there and I'm going to be questioning a lot of things," says Forgette, who does computer consulting work and is a landlord for a couple of local properties.
"I'm going to be bringing a lot of new ideas to the table."
He also knows what an all-consuming job public life is.
"It's really hard to be on council," he says.
"I admire what each one brings to the table. I look up to all of them."
Running for office can be expensive and Forgette has realistic expectations as to what he can afford.
"It will be a very moderate amount," he said.
If Forgette does find himself with a seat at the table, it will represent another life-changing moment for him.
Forgette and his common-law wife, Tania, welcomed a baby son, Grayson, last month.
"I'm running for council because I want to see this city thrive. I want North Bay to be the northern place to go."
Visit http://www.cityofnorthbay.ca/cityhall/council/elections/2014/ for more information on the 2014 municipal election in North Bay.