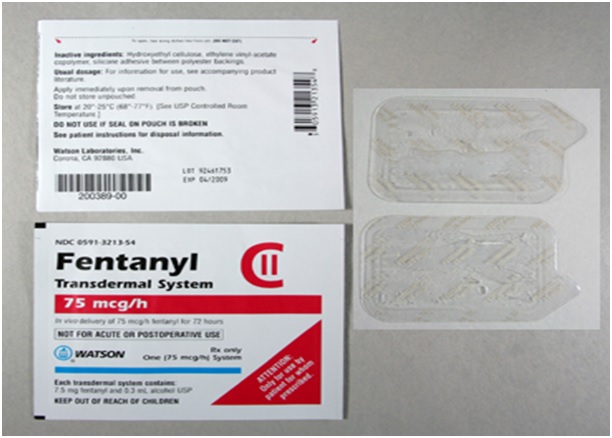 It's a first-of-its-kind policy that North Bay Police, the Drug Strategy Committee, physicians and pharmacists all hope will keep control of a drug that has run rampant over the last number of years.
The "North Bay and Area Fentanyl Patch 4 Patch Return Policy" was announced at police headquarters Friday morning, the purpose of which being public education and awareness regarding the risks involved with abuse and misuse of the drug.
Dr. Paul Preston, who is Chief of the Department of Family Medicine at North Bay Regional Health Centre says just one pharmacy in Ottawa is currently doing this.
He says this policy is unprecedented for the North Bay Area.
Police Chief Paul Cook says there have been 11 confirmed Fentanyl overdose deaths in the community since 2007 and another two that are suspected.
He says it was brought to his attention and they reached out to the Drug Strategy Committee and they pulled together the partnerships needed. Cook adds this "ground-breaking" document just makes good sense.
"A patch-for-patch exchange will hopefully reduce the number of patches that are available in our community," he said, "And in turn, reduce the issue that we are having with these tragic consequences where we're having young people that are abusing Fentanyl that are ending up overdosing on it."
One of the signatures on the document belongs to Jennifer Sicard, who is the Pharmacist Manager at Medical Pharmacy on Main Street.
She says it's very important work they're doing.
"Fentanyl is a very powerful medication that's used for severe pain and it has a lot of legitimate uses for people who are suffering from cancer pain or extreme chronic pain," Sicard said.
"But it has become a drug-of-choice as of late. The problem being that patients who are selling these medications or letting them go to people who don't necessarily need them are not realizing the potential for overdose and how dangerous this medication is when it's used the wrong way or in the wrong hands."
With every new policy, there is bound to be some push back.
Dr. Preston knows there are legitimate users that have been using the patches for years and this extra step could be an inconvenience to some.
As far as he's concerned though, Preston says this drug—about a thousand times more powerful than a morphine pill—can be plucked out of somebody's garbage and still have a lot of the drug left in it, sometimes enough to deliver fatal results.
"The problem is that we're not prescribing this to suspicious-looking characters with a lot of history of drug problems, no doctor would do that," he said, "We're doing it to nice little old ladies, uncles and aunts and stuff like that and then some of them, sometimes it's the nephew that knows that aunt so-and-so's got some and she just gives him a few."
"He can sell them for 400-500 bucks, or use them himself and that's a lot of money. Say you get 10 a month, could be 5,000 bucks and make that money in five minutes."
Dr. Preston says the drug is supposed to be leaked out over a 72 hour time frame but when you get a big chunk of that in just seconds, you're getting whacked.
"There are different levels of the dose and you're getting pieces of the patch," he added, "Generally, they come in 12, 25, 50 and 100 micrograms per hour and it leaks out from the patch into the skin of the body part."
"But the people who abuse it are smoking it so they get huge doses suddenly, gives them a massive euphoria, often knocks them out."
The policy recommends that no more than 10 patches be dispensed at once, but the pharmacist can use discretion to the amount of quantities dispensed, whether it a one month or three month supply.
Sicard says whether or not the prescription indicates patch-for-patch, the same amount of patches going out has to come back on a disposal form. The form will need a date, time and patient signature.
Patients will also need to keep the original packaging to put the old patches in and attach to the return sheet.
"It's just going to keep track of them a little better and help to make it a little safer," she said.
The doctor will educate the patient and if a patent doesn't return patches to the pharmacy, the doctor will be notified in writing. The physician will be responsible for acknowledging it in writing as well.
After that, limited doses will be given to the patient until they meet certain criteria to get back to their original quantity.