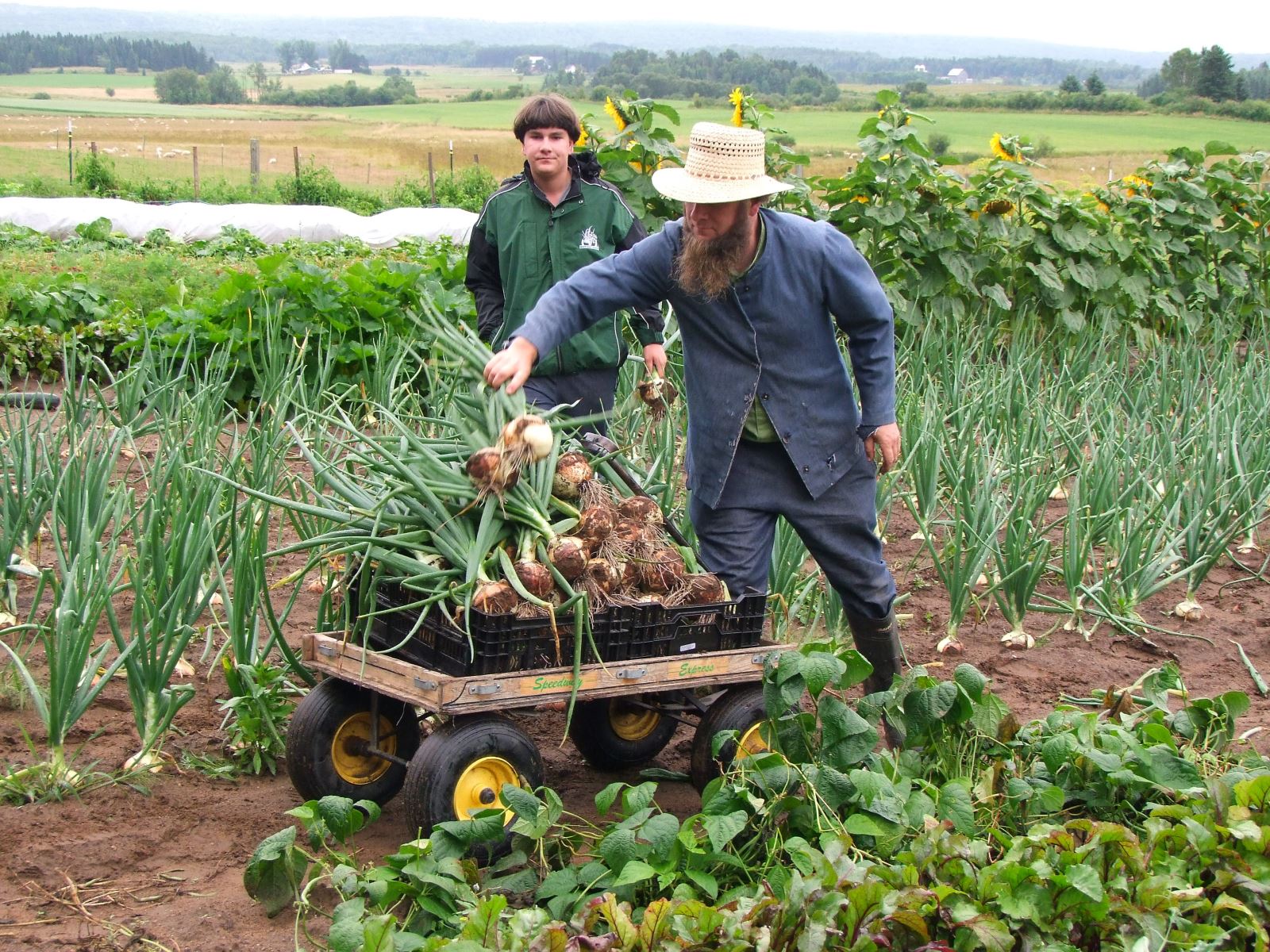 Farmer Sam Yoder at his farm outside Powassan harvests vegetables to be used in the 100 Mile Dinner. Submitted photo.
The South River/Machar Agricultural Society had another successful 100-Mile Dinner event with nearly $2,000 going directly to local farmers.
Held last Saturday, the Near North Bounty, Taste of the South Riviera event saw more than 140 people sit down for a wonderful evening with neighbours and friends enjoying a five-course meal, entertainment and more knowing nearly everything came from with 100-miles of home.
Food for the meal was sourced from local farmers between Sprucedale and New Liskeard and even had Georgian Bay whitefish from Nobel.
Profits went directly to producers supporting their endeavours while also promoting their hard work.
"The evening really was a celebration of all things local," said Society president Suzanne Learn. "Everything from the entertainment to the appetizers to the desert course were all sourced locally.
"The best part was the excitement everyone brought to the event from our patrons to the volunteers, to the producers. There really was a passion for local food in the building that night and the standing ovation at the end let us know everyone's efforts were appreciated and that we are on the right track," said Learn.
Gregor Waters of the Northern Edge wilderness resort near Algonquin Park lead the kitchen team and showed just how versatile fresh local ingredients can be with his Highlander Brew Co. Smoked Porter meatballs, a corn and fish chowder with a local herbs broth and chicken cacciatore.
Waters was already a passionate food advocate with years of volunteering for the Near North Locavores before becoming involved with the Society's event. He is now looking at partnering the Locavores with the Society to build new ventures to support local food in the Near North.
Jaime Board of Board's Honey Farm in Restoule, a regular vendor at the North Bay Farmers' Market, provided the desert course of honey cake (made with local flour) and blueberries with the perfect touch of a piece of honeycomb and mint to top it off.
"Wonderful things can happen when you think and act local," said Learn.
The 100-Mile Dinner event is just one of several community celebrations held by the South River/Machar Agricultural Society throughout the year.
On Sept. 5 and 6 they host their 133rd annual fall fair at the fairgrounds in South River, next to the arena/community centre complex.
For a list of producers, photos from the 100-Mile Dinner or more information contact Suzanne Learn at 705-386-7391 or email srmasff@gmail.com.