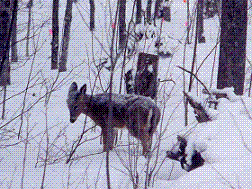 MNR News Release
*****
A Trout Creek resident has been fined $1,500 for unlawfully failing to tag deer.
Jeff Peters pleaded guilty to offences under the Fish and Wildlife Conservation Act for failing to affix a game seal to his hunted deer.
Court heard that on November 10, 2013, conservation officers conducting a hunt camp inspection found an untagged deer hanging under a sawmill shed on Barrett road.
Further investigation revealed that Peters had shot the deer, hung it, and failed to affix his game seal.
The deer and game seal were seized and forfeited to the Crown.
Justice of the Peace Michel Moreau heard the case in the Ontario Court of Justice, North Bay, March 19, 2014.
The Ministry of Natural Resources would like to remind the public that hunting regulations are in place to protect the sustainability of wildlife populations and to give all hunters a fair opportunity to take part in the hunt.
For further information on hunting regulations, please consult the Hunting Regulations Summary available at ontario.ca/hunting.
To report a natural resource violation, call 1-877-TIPS-MNR (847-7667) toll-free any time or contact your ministry office during regular business hours. You can also call Crime Stoppers anonymously at 1-800-222-TIPS (8477).
*****