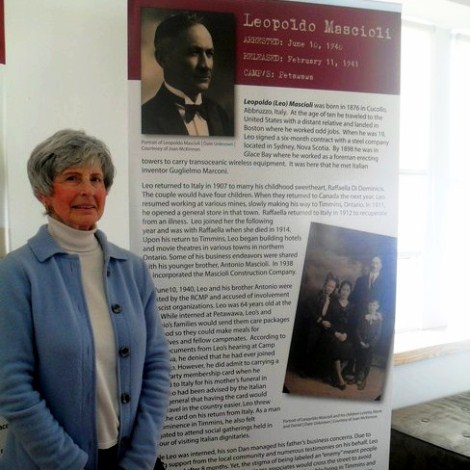 North Bay resident Sandra O'Grady stands beside a picture and bio of her grandfather Leopoldo (Leo) Mascioli, who was sent to a Internment Camp in June of 1940, where he was to do hard labour for nearly 8 months. Although he was never charged with a crime, he was labelled a fascist by the Canadian Government because he had an Italian name.'Discovery North Bay has a revealing exhibition under its roof about a forgotten and dark chapter of Canadian History.
The Community Historical Recognition Program has put together 'Ordinary Lives, Extraordinary Times: Italian Canadian Experiences During World War II', a bilingual touring exhibit by the Columbus Centre of Toronto, that North Bay is fortunate enough to have for a period of time about the Italian Canadians that were put in internment camps during the 2nd World War.
Approximately 31,000 Italians that immigrated to Canada from 1922 on were rounded up and identified as 'Enemy Aliens', with 7000 ordered to report regularly to the RCMP, with their actions being closely monitored.
Of those, approximately 600 Italian Canadians were sent to various internment camps located within Canada, where they were confined for an undetermined amount of time and forced to do hard labour.
Most of them were men; however, the detainment impacted their entire families greatly, impeding the entire Italian community for decades to come.
The exhibit has a few of the photos of those who endured, along with personal writings by surviving relatives, despite attempts that were made by many to destroy much of the evidence, information and association surrounding these camps.
The Association of the Italian Canadian Writers, with help, put together 'Behind Barb Wire, ' a collection of short memoirs, poetry and dramas inspired by the internment, now more than sixty years on.
The exhibit is seen as a unique opportunity to build bridges between communities and individuals across Canada and continue open dialogue about discrimination, religious tolerance, especially in times of hysteria surrounding war, terrorism and subversion by the state.
The evoking of the War Measures Act in June of 1940 had a profound impact on Canadian Italians across the Country, especially those with families and ties to the then fascist homeland of Italy.
The Italian community, closely integrated with the Catholic Church, was also seen as a possible mechanism for the enemy to manipulate into a network for spying and other gathering of information that would be detrimental to the allies.
Two well-known North Bay families can trace connections back to those being sent to large internment camps, located in Kananaskis, Alberta, Petawawa, Ontario and at the Kingston Prison for Women in Kingston, Ontario.
The experiences and recollections of the Demarco and Mascioli families are two of the accounts that are highlighted in the exhibit, detailing the treatment of Italian Canadians in the early 1920's, who, on the 10th of June in 1940, were deemed enemy aliens because they each had an Italian last name.
No charges were ever officially laid against any Italian Canadians during these times yet it did scare a number of generations because of the mistrust, suspicion, fear and shame that was cast upon them.
It is because of this underlying fear that many of those who were affected chose never to speak of what transpired and is the reason as to why so many non-Italian Canadians don't know that these camps existed or of the men's personal experiences while living within them.
Canada's identity, a melting pot of cultures, was undeniably stirred with the internments, pushing the Italian culture and language out of public view, with the modern age assimilating many of the cultures of former Europeans settlers.
In 1990, the Canadian Federal Government issued an apology for the treatment of Italian Canadians during WWII and announced the Acknowledgement and Education (ACE) Program, as part of its compensation efforts.
But for many Italian Canadians who were imprisoned in these camps, there could never be enough compensation, as they lived out much of their days being labelled as a 'traitor' or a 'criminal' by those in the community.
'Ordinary Lives, Extraordinary Times: World War II' is now showing at the Discovery North Bay Museum.
The exhibit is a must see for anyone interested in their Italian heritage or the Canadian experience of detainment camps.
The exhibit will be open to the public from January 15th to April 18th of 2014.