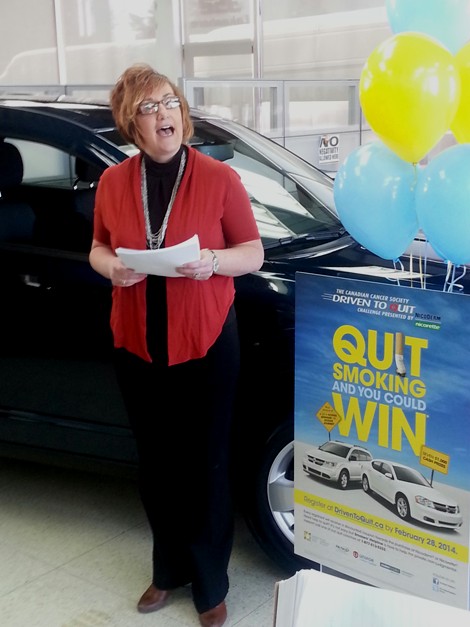 Nicole McGaughey-Paparo, Senior Coordinator for the Smokers Help Line in Northeastern Ontario speaks at a news conference at North Bay Chrysler Thursday morning./MARK PARE PHOTO
Cars and cash tend to catch anybody's attention and the Driven to Quit Challenge will test smokers looking to kick the habit.
The challenge is meant for smokers to quit for the month of March. For those successful, they will be entered into a draw for a chance to win a 2014 Dodge Avenger or Dodge Journey. There will also be seven cash prizes worth $1,000 each.
The health-promotion campaign was initiated by the Canadian Cancer Society, with support from Smokers Help Line.
According to Senior Coordinator for Northeastern Ontario's Smokers Help Line Nicole McGaughey-Paparo, a chance to win new vehicles is just one of the components to this initiative.
"The other...is to encourage those Ontario smokers to reach out to support services like Smokers Help Line, who can provide free confidential, individualized service," she said, "Offering information, advice and support to those smokers so that they can set themselves up to be successful in their quit attempt."
She adds it takes about five to seven attempts to quit smoking to actually kick the habit. Their hope is to initiate those quit attempts so that the more times someone tries to quit, the more successful they will be.
"We want to ensure that all Ontarians are healthy and that tobacco is no longer a health concern for Ontarians," said Paparo.
The Challenge has attracted more than 202,500 participants in Ontario since its inception in 2006. In 2012, numbers reached a high of 37,000 people including more than 607 North Bay residents.
"We've had great participation in the past number of years," said Andrew Layne, Manager of the Canadian Cancer Society in the North Bay and Area, who adds you have to start quitting from somewhere but people put a tremendous amount of effort into quitting.
"And it's that mindset of saying I am going to quit and starting down that path to quitting and it takes many people many times or attempts to quit," he said.
"But it's that first step of 'Hey, look, I'm going to try.' And once you start on that initiative, over time it's been proven you can be successful if you stick with it."
"We are also hoping that if individuals are able to be smoke free throughout the month of March, that they will extend that smoke-free period beyond that deadline towards a healthier self," Paparo added.
Layne says they have some great partnerships with the automobile industry in Southern Ontario in getting the vehicles.
"I think it's just demonstrated it's very much an eye-catcher for people and gets their interest," he said, "And also, having some additional cash prizes also helps to reward those who have been able to take the initiative and is successful."
It's free to enter for anyone in Ontario and at least 19 years of age and the deadline is February 28th. You must also have a support buddy to register and have proof you were tobacco-free in the 31-day period.
Residents are encouraged to quit after they register, but that The Challenge begins March 1. For more information including full contest details and to register, click here www.DrivenToQuit.ca.
You can also visit a Canadian Cancer Society Community Office to put your name in the running.
Smokers in need of support can reach the Smokers Help Line at 1-877-513-5333 or check them out online at smokershelpline.ca