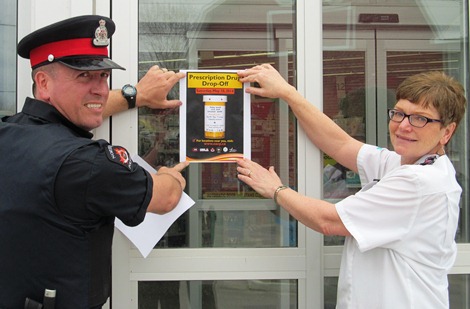 Rexall pharmacist Lyla Burnett says far too many people hang on to prescription drugs long after they should and that is why drug stores in the city have a safe disposal program in place.
She says the program is designed to get unused or expired drugs disposed of safely and in turn preventing accidental poisonings, drug interactions or duplications.
She also notes that just tossing them in the garbage is unsafe as children and animals can easily get access and flushing them down a toilet is not safe for the environment.
City Police spokesman Al Bedard says keeping expired and unused prescription medication is like sending an invitation to break into one's home by folks who abuse drugs.
He says members of the police service want to do their part to keep prescription meds out of the hands of people they are not intended and will take part in the 'Prescription Drug Drop Off Day' Saturday May 10, 2014.
Folks can stop by the station and drop off any unused medications that day between the 10am and 3pm.
But folks are also reminded that they don't have to wait as their local pharmacist can dispose of prescriptions at any time during their regular business hours.
For folks outside of the city the OPP are also participating in the program Saturday May 10th and will accept drop offs at their detachments.
"I fully support Prescription Drug Drop Off Day. In last year's campaign, the OPP received over 330 kilograms of medications from 730 citizens. I urge all Ontarians with unused medications at home to work together and make our homes safer by participating in the 2014 Prescription Drug Drop Off Day," notes OPP Commissioner Vince Hawkes.